The US National Transportation Safety Board (NTSB) has opened an investigation into a JetBlue Airways flight which experienced severe turbulence, injuring numerous passengers and one member of the crew.
The New York-based carrier confirmed the incident on 25 September.
"JetBlue flight 1256 with scheduled service from Guayaquil, Ecuador to Fort Lauderdale, Florida, experienced sudden severe turbulence as it neared Florida," the airline says. "The flight landed safely at Fort Lauderdale-Hollywood International airport where it was met by medical personnel who transported seven customers and one in-flight crew member to the hospital for evaluation and treatment."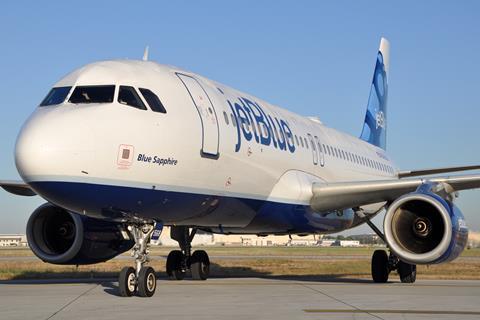 The airline adds that the aircraft "has been taken out of service for inspection". It did not answer a request for the aircraft's registration number. According to Cirium fleets data, JetBlue has 129 of the type in service.
NTSB posted on X, the social media website formerly known as Twitter, that the aircraft, an Airbus A320, was over Jamaica at the time of the incident. Flight tracking website FlightAware.com showed the aircraft landing in Fort Lauderdale just before 05:30 local time.