The US National Transportation Safety Board (NTSB) will hold a roundtable discussion on pilot mental health after several recent incidents have come to light in which pilots apparently suffered mental breakdowns.
In a speech to the Air Traffic Control Association's Global Aviation Conference, NTSB chair Jennifer Homendy on 2 November said that often mental health issues among flight deck crew go unreported and untreated, leading to situations that could compromise aviation safety. She blames the Federal Aviation Administration's arcane rules on the subject as the primary reason.
"It's somewhat of an open secret that current rules incentivize people to either lie about their medical history when it comes to mental health or avoid seeking help in the first place," she says in prepared remarks published by the NTSB.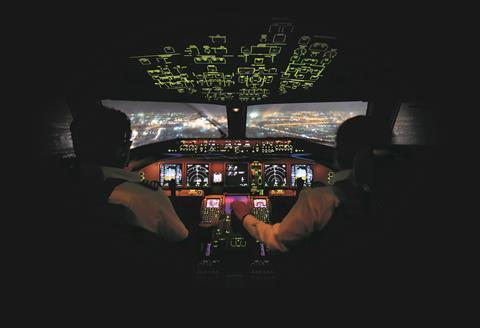 "I am frankly concerned about the safety consequences of a system that unintentionally shames and silences people who are struggling," she adds.
The event will be held on 6 December, the first of a series of events that will focus on US aviation safety.
Homendy's comments come just days after reports surfaced that a Delta Air Lines first officer in 2022 threatened a captain with a firearm during a commercial flight. He was indicted on 18 October and is set to be arraigned later this month.
Last week, an off-duty Alaska Airlines pilot travelling in the cockpit jump seat on a flight to San Francisco from Seattle attempted to shut off the engines of an aircraft in flight, forcing it to divert to Portland, Oregon. He claimed to have taken psychedelic mushrooms prior to the incident, and had told law enforcement authorities that he was having a "nervous breakdown". He has been charged with 83 counts of attempted murder.
"Mental health doesn't affect those in aviation any differently than it affects others around the world," Homendy says. "We're all human, which means we're all affected by fatigue, illness, grief, and other work-related or personal stressors."
Pilot mental health – both in general aviation and commercial contexts – is a massive white elephant in the cockpit, say aviation medical professionals worldwide. That is because regulators hold all the power, and some say the system forces pilots to make unwise choices to avoid losing their permission to fly.
Many pilots admit privately that they do not report mental health struggles, or if they use medication to help them with those struggles, to the FAA or their doctors. They fear the FAA will rescind their medical certification, and they would thereby lose their livelihood.
Exact figures are difficult to come by due to the stigma around reporting mental health problems. However in a recent unscientific online poll, senior aviation medical examiner Brent Blue asked pilots if they had ever used an anti-depressant medication and not reported it to the FAA. Almost half of the respondents answered in the affirmative. He then asked if they ever had mental health issues for which they did not receive professional help due to fear of losing their medical certification. Yes, said 63%.
The final question, "Do you think the FAA handles pilot mental health issues appropriately?" was met with resounding rejection, with 96% of respondents saying no.
"In practice, if not on paper, FAA's system for certifying pilots and mechanics hasn't kept up with the science around mental health, let alone modern attitudes," Homendy says. "Regardless of their profession, people must feel safe getting the help they need when they need it. And leaders like us need to talk about it, get comfortable being uncomfortable, to help provide a safe space for others to get treatment."