The largest pilot union in North America has filed a formal complaint against two proposals which could alleviate the pilot shortage currently plaguing commercial aviation and causing flight disruptions across the industry.
Air Line Pilots Association, International (ALPA), which represents 65,000 pilots at 40 carriers, on 8 July says in a filing to the US Department of Transportation (DOT) that recent proposals from regional carriers Republic Airways and SkyWest Airlines, are "blatant attempts to skirt the nation's most effective aviation safety improvements".
Both companies have put forward plans to allow aviators with less aeronautical experience to qualify for commercial cockpit roles.
Under current US rules, most aspiring professional pilots must show 1,500h of aeronautical experience – a requirement proving a bottleneck to increasing pilot supply long-term.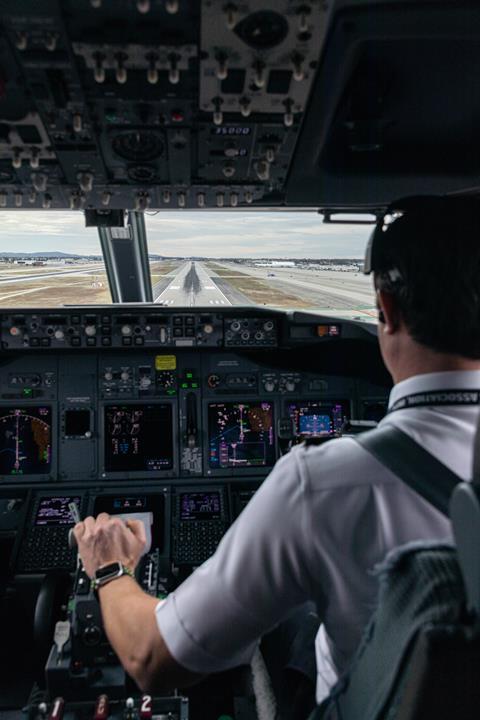 But ALPA has repeatedly complained that skirting the rules would compromise safety.
"Republic and SkyWest are now conceding that, despite receiving substantial federal support, they still can't figure out how to competently manage an airline without cutting corners on safety," ALPA president Joe DePete says. "American taxpayers subsidized these airlines and now they are attempting to undermine the most effective aviation safety measure in modern time - a measure that has resulted in a 99.8% reduction in passenger airline fatalities."
"Their requests would be laughable if they weren't so deadly serious and should be summarily rejected," he adds.
In April, Republic requested an exemption to FAA qualification and experience requirements at its own flight school, arguing that its highly-selective ab initio pilot training programme is similar to rigorous military aviation training. Military pilots can apply for a flight deck job in commercial aviation with as few as 750h of total flight time.
Republic responds to the ALPA complaint by saying its proposal "is designed to produce the most highly trained generation of airline pilots in history" and that safety "is and will always be the top priority" for the airline.
SkyWest, meantime, in June applied to DOT for permission to launch a charter subsidiary for shorter flights on aircraft with just 30 seats. The commuter flights would operate under Federal Aviation Regulations Part 135 rules, which govern charter operations, as opposed to Part 121 rules, which govern scheduled commercial aviation operations.
Under Part 135, most pilots need only 1,200h of total flight time, as opposed to 1,500h for pilots flying under Part 121.
ALPA calls SkyWest's proposed subsidiary an "alter ego charter airline" that has "no place in the realm of commercial, reliable, and safe aviation".
In May, ALPA also nixed an idea to raise the mandatory pilot retirement age to 67 or 68 from 65 currently. In addition, ALPA has complained to the US government about airlines hiring qualified pilots from overseas on specialised visa programmes.
While the union maintains there is no pilot shortage in the USA, numerous airlines have said they've been forced to cut their schedules and cancel flights due to a dearth of qualified cockpit crew as the industry recovers more quickly than expected from Covid-19.
Thousands of pilots took early retirement packages during the coronavirus-driven downturn in 2020-2021, leaving many empty seats on flight decks across the industry. Aviation analysts say gap is forecasted to last for several years.
Pilot consultancy Future and Active Pilot Advisors (FAPA) has said that in 2022, US airlines are looking to hire for 13,000 pilot jobs. According to FAA civil airman figures, in 2021 the US regulator issued just 5,020 original air transport pilot (ATP) certificates – the required qualification to get a job as a commercial airline pilot.
Before pilots can take ATP exams, most must show 1,500h of aeronautical experience – a requirement proving a bottleneck to increasing pilot supply long-term.
The so-called "1,500-hour rule", introduced more than a decade ago following a fatal airline crash that was attributed in part to pilots' lack of experience, has generated a great deal of controversy in recent months. No other country has a similar aeronautical experience rule.
Updates on 8 July to add a statement from Republic Airways in response to the ALPA complaint.