The US telecommunications industry appears set to begin "5G" wireless transmissions on 5 January, even as the Federal Aviation Administration warns doing so could prompt widespread flight cancellations.
In recent days, US government agencies have sparred with each other and sought compromise with industry, hoping to address dispute over whether 5G transmissions can dangerously interfere with aircraft radio altimeters.
Citing that concern, US secretary of transportation Pete Buttigieg on 31 January asked chief executives of AT&T and Verizon to delay their launch of 5G for no more than two weeks.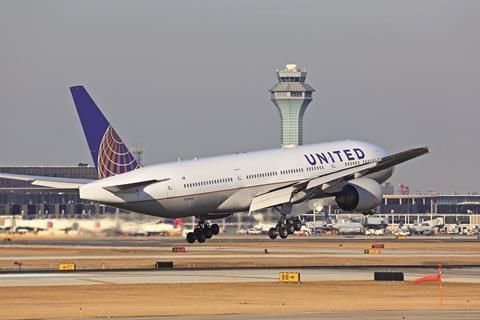 In a 2 January response, those executives made no such commitment. Instead, AT&T CEO John Stankey and Verizon CEO Hans Vestberg offered to reduce 5G "signal levels" near US airports for six months, saying such measures have been proven safe in France.
"The laws of physics are the same in the United States and France. If US airlines are permitted to operate flights every day in France, then the same operating conditions should allow them to do so in the United States," the CEOs say. "These additional voluntary measures will give the FAA and the aviation industry ample opportunity to conduct any further studies and remediate any altimeters that might not meet current standards."
AT&T and Verizon insist 5G transmissions, which in the USA will fall in the 3700-3980 MHz range (the C-band), are safe to aircraft.
Whether the telecom companies' offer to reduce signal strength will assuage the FAA's concern remains unclear.
"We are reviewing the latest letter from the wireless companies on how to mitigate interference from 5G C-band transmissions," the FAA says. "US aviation safety standards will guide our next actions".
In addition to requesting a two-week delay, Buttigieg's 31 January letter asked AT&T and Verizon to wait several months before starting 5G transmissions near some "priority airports". During that period, the FAA would evaluate other mitigation efforts, Buttigieg wrote.
Flight disruptions could be forthcoming.
"Failure to reach a solution by January 5 will force the US aviation sector to take steps to protect the safety of the travelling public, particularly during periods of low visibility or inclement weather," Buttigieg's letter says. "These steps will result in widespread and unacceptable disruption as airplanes divert to other cities or flights are cancelled."
FCC RESPONDS
The head of the US Federal Communications Commission has also responded, criticising Buttigieg's proposal as "highly irregular".
"Your request for delay is not backed up by the science, engineering or law," FCC commissioner Brendan Carr writes in a 1 January letter to Buttigieg. The FCC already determined that C-Band transmissions "will protect aeronautical operations from harmful interference".
Carr adds that C-Band transmissions are used in 40 countries "without any reported instances of harmful interference".
US pilot union Air Line Pilots Association, however, says the FCC has "ignored" requests for analysis about potential interference.
"The FCC's lack of disclosure of critical information is making ALPA very concerned," ALPA says on 3 January. It again requests "critical information" needed to evaluate risk.
Dispute about 5G has simmered for years but erupted in late 2021 as AT&T and Verizon prepared to begin operating fifth-generation, or 5G, networks. Those companies initially planned to start on 5 December 2021 but delayed to 5 January amid aviation industry pressure.
The aviation industry says 5G's frequency range, being close to the 4200-4400 MHz used by aircraft radio altimeters, risks interference.
On 7 December 2021, the FAA issued an airworthiness directive prohibiting all aircraft, including large jets, from using certain landing and navigation systems in areas of potential interference from 5G.
The FAA on 23 December 2021 issued a bulletin asking the aviation industry to assess potential interference.