The US Transportation Security Administration (TSA) is preparing to extend its mandatory face covering mandate for airports and aircraft into January 2022.
The federal mandate, implemented in January 2021, was set to expire on 13 September.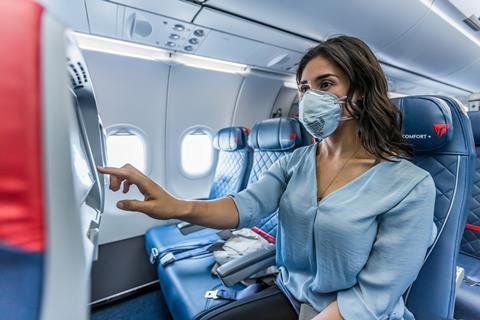 "TSA will extend the directives through January 18, 2022," the agency says on 17 August. "The purpose of TSA's mask directive is to minimize the spread of COVID-19 on public transportation."
Masks in airports and on aircraft have been contentious since the rule took effect. Even prior to the government requirement, airlines had been asking travellers to wear face coverings to mitigate the spread of the coronavirus.
The FAA has since reported a sharp rise in unruly passenger incidents related to the mask requirement.
On 16 August, the agency reported 2,867 mask-related incidents of violent or disruptive behaviour since its "zero-tolerance" policy took effect on 13 January. It has launched 682 investigations and initiated 120 enforcement cases as a result, and has slapped heavy fines on some passengers. The highest penalty imposed was $52,500.
"Under our current zero-tolerance policy toward unruly passengers, we are not addressing cases with warning notices or counselling," the FAA's website says.
In past weeks, airlines have reported declining demand for air travel, which they have attributed to the "Delta" mutation of the coronavirus, currently tearing across the country.
Updates on 17 August with TSA confirming that the federal masking order will be extended.