The US air transport and travel industries are pushing back on a potential quarantine requirement for international travellers arriving in the US, currently being weighed by the administration of President Joe Biden, in order to stem the spread of the coronavirus.
Trade groups on 22 January say a mandatory self-isolation rule would be an additional setback to an industry trying to regain its footing following an almost-year-long decline, and it is also likely unenforceable.
The idea was floated by President Biden himself in a televised statement on 21 January when he said, "In addition to wearing masks, everyone flying to the United States from other countries will need to test before they get on that plane, before they depart, and quarantine when they arrive in America."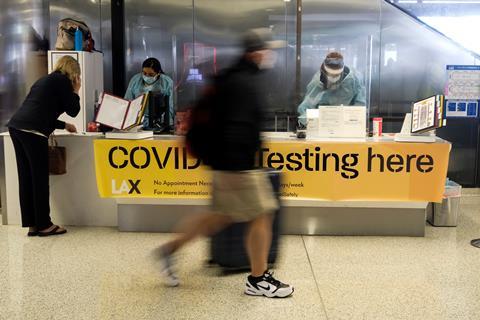 "We believe a mandatory quarantine requirement for international travellers could be extremely difficult to enforce — and unnecessary in light of required testing and the many other protections now in place," trade group US Travel Association says.
Earlier this week, Biden signed an executive order that mandates face coverings on all interstate travel in public transportation by air, sea and land, which includes all flights within and to the USA. The rule supports airlines' own rules, which they had imposed early in the pandemic to add a layer of protection for crews and passengers.
In addition, the US government plans to require a negative coronavirus test result that is less than 72h old as a prerequisite for boarding US-bound aircraft beginning on 26 January. Airlines will be responsible for ensuring customers have the correct documentation in either paper or electronic form.
Airline trade group Airlines for America (A4A) views the testing requirement as far more effective quarantines, and earlier this week asked the Department of Transportation to lead the creation of global testing standards for international travellers.
"US airlines have been strong advocates for a national testing standard set by the federal government and appreciate that the executive order moves our country forward on a framework for testing," A4A says on 22 January.
"We remain hopeful that this announcement will be followed by a recognition that testing can be used to safely resume travel without quarantines, which are difficult to enforce and often prove ineffective," the organisation adds.
The US government has said the testing rule will be for international flights only. Airlines and other industry professionals say they do not anticipate the same requirement will be imposed on domestic travellers.
"In the domestic environment, where there aren't defined ports of entry for travellers, mandatory testing and other requirements are also impractical and could divert scarce public health resources away from other priorities," the US Travel Association adds.
United Airlines, which reported fourth-quarter results on 20 January, said that since the announcement of the new testing requirement last week, it had seen a "noticeable" decline in bookings to and from beach destinations in Mexico. Previously, there had been few restrictions on travel to and from the Latin American country.
US neighbour Canada has had a national quarantine mandate since March 2020, and added a testing requirement for inbound passengers two weeks ago.