The Transportation Security Administration (TSA) will no longer enforce the federal face mask mandate, in place since January 2021, after a US judge struck down the order.
The mandate had been imposed by the US public health agency Centers for Disease Control and Prevention (CDC) to mitigate the spread of highly-contagious Covid-19 before vaccines were widely available. TSA had had a similar order in place for airports and on board aircraft, upon CDC's recommendation.
"The agencies are reviewing the decision and assessing potential next steps," a US government official says on 18 April in response to the court ruling. "In the meantime, today's court decision means that the CDC's public transportation masking order is not in effect at this time. Therefore TSA will not enforce its security directives requiring mask use on public transportation and transportation hubs at this time."
"CDC recommends that people continue to wear masks in indoor public transportation settings," the official adds.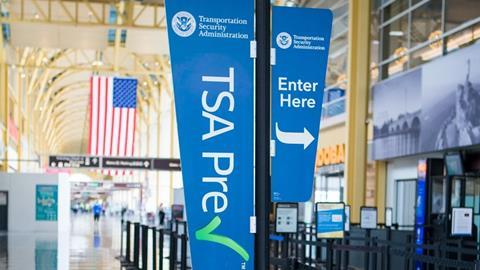 TSA, which is responsible for security screenings at 450 airports across the country, declined to comment on the decision.
Earlier in the day, judge Kathryn Kimball Mizelle of the US District Court for the Middle District of Florida, vacated the CDC's mask order, saying it "exceeded the CDC's statutory authority". But TSA is the agency that enforces the mask mandate in air travel settings.
US airlines reacted quickly to the decision.
"Effective immediately, masks are no longer required … on domestic flights, select international flights (dependent upon the arrival country's mask requirements) or at US airports," Chicago-based United Airlines says on 18 April.
"While this means that our employees are no longer required to wear a mask – and no longer have to enforce a mask requirement for most of the flying public – they will be able to wear masks if they choose to do so, as the CDC continues to strongly recommend wearing a mask on public transit," the company says, adding that it will "closely monitor" the situation in case it changes.
Seattle-headquartered Alaska Airlines adds, "Effective immediately, all Alaska Airlines and Horizon Air guests and employees have the option to wear a mask while traveling in the US and at work. Masks are no longer required for travel and will be optional."
Delta Air Lines, while also eliminating the requirement for its customers and employees, warns that due to the dynamic nature of the news, customers can expect "inconsistent enforcement during the next 24 hours" and that local mask mandates in other countries may still be in effect.
Airlines for America (A4A) a lobby group which represents 11 major US carriers, says that it has been working to end the pandemic-driven policies, and is "encouraged by the lifting of the federal transportation mask mandate".
"The high level of immunity and widespread vaccine accessibility in the US coupled with the hospital-grade cabin air on aircraft provide a strong, science-based foundation for passengers to travel with confidence as restrictions are lifted on our nation's airlines," A4A says.
The federal mask mandate was put in place in early 2021, months after airlines had begun imposing their own rules on face coverings on-board aircraft in order to slow the spread of the highly-contagious coronavirus.
The mandate had been extended several times, most recently last week. It had been due to expire today, but CDC recommended it be extended 15 more days, until 3 May, as a cautionary measure as a new sub-variant of Covid-19 spreads across the USA.
Updates on 18 April to add Delta Air Lines statement.