The US government will require inbound international air travellers to provide a negative coronavirus test result that is less than 72h old before entering the country, effective 26 January.
The national public health institute US Centers for Disease Control and Prevention (CDC) says on 12 January that airlines will be responsible for ensuring that each passenger has either paper or electronic proof of the negative result prior to boarding aircraft bound for the USA.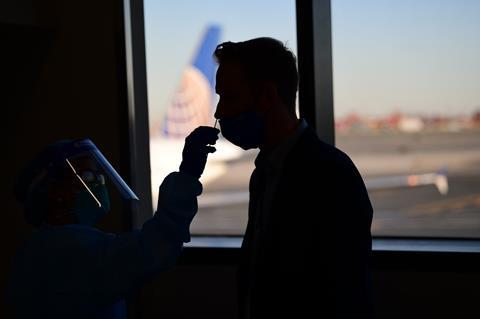 "Before departure to the United States, a required test – combined with the CDC recommendations to get tested again three to five days after arrival and stay home for seven days post-travel – will help slow the spread of Covid-19 within US communities from travel-related infections," the CDC says. "Pre-departure testing with results known and acted upon before travel begins will help identify infected travellers before they board airplanes."
If a passenger can not show documentation of a negative result or recovery from the virus, or refuses to take a test prior to travelling, airlines must leave that passenger behind, CDC says.
"Testing does not eliminate all risk," says CDC director Robert Redfield. "But when combined with a period of staying at home and everyday precautions like wearing masks and social distancing, it can make travel safer, healthier and more responsible by reducing spread on planes, in airports and at destinations."
US airline trade group Airlines for America (A4A), which represents most major US carriers, says that it appreciates the CDC's recommendation to implement a pre-departure testing programme and calls on the government to relax other entry requirements in return.
"Since the onset of this crisis, US airlines have relied on science to help guide decisions as they continuously reevaluate and update their processes, procedures and protocols," A4A says. "Recognising that this regime will provide an additional layer of safety in the travel journey, we encourage the administration to move forward with recommendations to concurrently lift existing entry restrictions on travelers from Europe, the United Kingdom and Brazil."
The USA joins Canada and numerous other countries introducing blanket pre-departure test requirements, as new mutations of the coronavirus are tearing around the globe.
The order comes two weeks after the US government on 28 December imposed mandatory testing for all passengers returning to the country from the United Kingdom, where a particularly virulent strain of the virus had been spreading. In the meantime, that mutation has also been detected in various locations in North America.
Major carriers have launched pilot coronavirus testing programmes ahead of specific overseas departures, but this is the first time since the beginning of the global pandemic last March that the USA has mandated testing for all arriving passengers.
According to Johns Hopkins University, about 22.8 million people in the USA have been infected with the rapidly spreading virus, and almost 380,000 have died from it.
Updates on 12 January to add a statement from trade group Airlines for America.