Autonomous flight technology developer Xwing has won a 21-month contract to operate pilotless cargo trials for the US Air Force (USAF), becoming the latest aviation start-up to partner with the US military.
The California-based start-up said on 11 May that it had secured a Phase II Small Business Innovation Research contract with the USAF's AFWERX Prime programme, which would "advance the development of remote operations and optimise the technology for future missions".
"Phase II can lead to Phase III and then to commercial contracts," Marc Piette, founder and chief executive of Xwing, told FlightGlobal on 10 May. "We have seen very strong engagement from AFWERX, the air force research lab, and we are pretty excited about it."
The scope of the deal is already expanding, Piette says, with the US Department of Defense (DoD) expressing interest in data from the test-flight campaigns to "see the potential across the various branches of the military".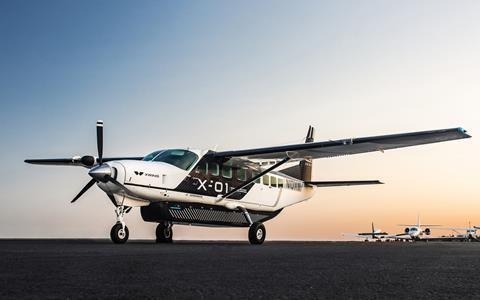 "Leveraging Xwing's autonomous technology, Superpilot, the USAF will have the ability to remotely operate aircraft without exposing pilots to high-risk scenarios," the company says.
"The advantage of autonomous cargo aircraft is that you can fly in places where that might be dangerous to humans," Piette says. "Being able to move supplies around without putting pilots in harm's way is definitely of interest" to the DoD.
Piette says that Xwing is joining electric vertical take-off and landing (eVTOL) companies in partnering with the USAF "because it helps validate the use cases and it helps instil confidence in the investment community".
For example, electric air taxi developer and fellow California Bay Area start-up Joby Aviation recently disclosed a $55 million extension to its Agility Prime contract with the USAF to deliver and operate up to nine of its yet-to-be-certificated aircraft. The deal is now worth a total of $131 million.
DUAL-USE TECHNOLOGY
Xwing's autonomous cargo trials with the USAF recently kicked off in Northern California and are being operated with a Cessna 208B, the same type Xwing used to demonstrate the first autonomously operated gate-to-gate flight in 2021. The programme boosts Xwing's development of technology it says will allow autonomous aircraft – including those larger than Grand Caravan – to safely integrate into the national airspace system.
The start-up has been logging flight hours with its pilotless system since its first flight. "We have been doing hundreds of flights here in Northern California gathering data and gathering the requirements for a certified variant of that aircraft," Piette says.
AFWERX Prime was launched in 2020 to accelerate emerging commercial markets and advance military capabilities. The programme partners with companies "whose dual-use technology has potential for compelling military uses", says Tom Meagher, lead for AFWERX Prime.
As a "commercial-first technology company", Xwing views its new partnership with the DoD as an opportunity to apply its Superpilot system in more operating environments and for different missions, Piette says.
"There are a number of key priorities for DoD for which we are aligned very well," he says. "There is a big push for autonomy and [artificial intelligence] in general. There is also a push for dual-use technologies, which are basically technologies developed for commercial markets, but they also have defence applications.
"There is also a key desire to provide better solutions in contested environments," he adds. "If there is an opportunity to save lives on the defence side, I think that is something that is of keen interest" to Xwing.
The start-up will assist the USAF in a variety of missions by "leveraging its existing autonomous technologies, including a fusion of flight control systems, collision-avoidance systems, auto braking, auto taxi and remote operations software to enable autonomous flight", the company says.
USAF pilots and operational commanders will also provide Xwing feedback on usability and human factors related to its autonomous technology.
In March, Xwing began a certification programme with the Federal Aviation Administration (FAA) that would allow it to launch pilotless cargo operations. It is the first unmanned aerial system (UAS) to be assigned FAA resources for a standard-category airworthiness certificate, the company says.
Designed for cargo operations, the Superpilot system will be benchmarked against current safety standards for passenger aircraft during its FAA certification programme. It is a bar that Piette views as appropriately high.
"It is a big challenge," Piette says. "But it is a challenge that we can meet and should meet, frankly, because if you are going to have that 8,000-pound aircraft flying overhead, you want to make sure that these things are extremely safe."
Xwing plans to achieve FAA certification by the end of 2025 and to enter service soon afterwards.