Autonomous aviation company Xwing is gearing up for a series of trials with US regulators that could represent a significant step forward for pilotless cargo operations.
The Concord, California-based start-up was awarded a contract to participate in the Federal Aviation Administration's Crosscutting Operations Strategy and Technical Assessment (COSTA) project, which is also supported by NASA and the Alaska Center for Unmanned Aircraft Systems Integration, Xwing said 1 December.
The programme will focus on real-world integration of autonomous aircraft in US airspace – including how they interact with air traffic controllers – and particularly in complex operating environments, such as those around wildfires.
"We have the potential to make everything from wildfire fighting to oceanic operations more efficient and safe," says Marc Piette, founder and CEO of Xwing. "We believe the data that we collect from these operations will be essential to helping the FAA and NASA bring unmanned flights to more types of operations in the aviation industry."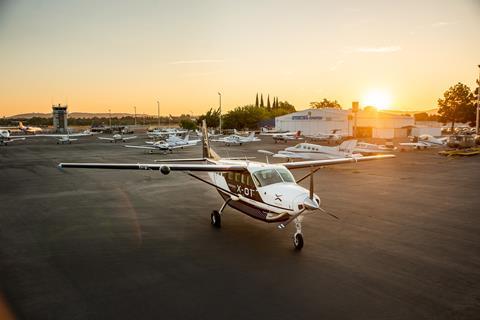 Being selected for the study is encouraging for Xwing, which has for several years been working toward FAA certification of its autonomous flight technology. Xwing runs a Part 135 cargo operation, making some 400 piloted flights monthly on behalf of UPS with a fleet of 35 Cessna 208B Grand Caravans.
The COSTA flight trials are set to begin in Northern California in the first quarter of 2023, with a safety pilot onboard an experimental Grand Caravan modified with Xwing's technology. The start-up hopes the trials will build the safety case for autonomous flight, advance the company's certification goals and "make sure the regulator is comfortable with these modes of integration", Piette told FlightGlobal during a 29 November interview.
"The COSTA programme is really about how large, unmanned aerial systems are going to be integrated into the national airspace," Jesse Kallman, Xwing vice-president of commercialisation and strategy, tells FlightGlobal. "I think the FAA has gotten an inside look at where we are, where the technology is, and they're looking for partners that can field something operationally. Xwing is one of the leaders in that space and is able to provide a flying aircraft that has been converted and can be remotely operated."
In May 2021, Xwing completed its first "fully autonomous gate-to-gate demonstration of a commercial cargo aircraft" with a Caravan. The aircraft left the gate, taxied, took off, landed and returned to the gate entirely on its own. There was a safety pilot in the cockpit, but all traffic control interactions were handled from the ground.
The company has since completed hundreds of autonomous flights, gradually testing its technology in increasingly demanding environments. "Initially you might do it with low wind conditions and then progressively you expand those wind conditions to handle more and more crosswind," Piette says.
Starting in the controlled environment of Buchanan Field outside of Concord, Xwing has expanded its testing programme to more unpredictable settings. At the same time, it has progressed from line-of-sight communications to links via cellular networks and satellites. Indeed, communication is the most critical puzzle piece left.
"That first piece has to some extent been done before," Piette says. "High levels of automation in aircraft has existed for decades, with high levels of safety." What would be groundbreaking is integrating autonomous aircraft into commercial airspace with no segregation between piloted and pilotless vehicles.
"It's really about what that interaction looks like for the remote pilot," Kallman adds. "How are they able to communicate with the environment around them while being remote? And things like latency – how quickly can they respond to command? If we're talking about satellite relays in an oceanic environment, for example, what does that latency look like versus someone operating over the continental United States?"
It is possible latency "would have a detrimental effect on the operation compared to if we had a pilot on board," Piette says. The ability for autonomous aircraft to make last-minute adjustments based on directions from air traffic control and avoid restricted airspace will be critical to the technology's success.
In addition to potentially sparing pilots from flying into areas struck by national disasters, Xwing's autonomous flight technology could have applications for delivering supplies to war zones, Piette says. It could also allow for more efficient and flexible cargo operations that are not tied to a pilot's location or available flight hours, and allow freighters to break up the traditional hub-and-spoke model in favor of more intercity services.
"I don't think we fully grasp… the full extent of applications that are going to come out of this as this technology goes through certification and starts getting applied beyond the Caravan to other types of platforms out there," Piette says.
Xwing is seeking FAA certification of its autonomous flight technology by late 2024 and operational approval in 2025.