Offsetting and nature's role in aviation's net-zero ambition
Typically, when we think of how we get to a net-zero world, understandably what comes to mind are changes to how we live and work in busy cities, how we can reduce our carbon footprints, and how we can expand the use of renewable energy, low emissions transport, and cleaner industrial processes. Living more efficiently should also not be forgotten.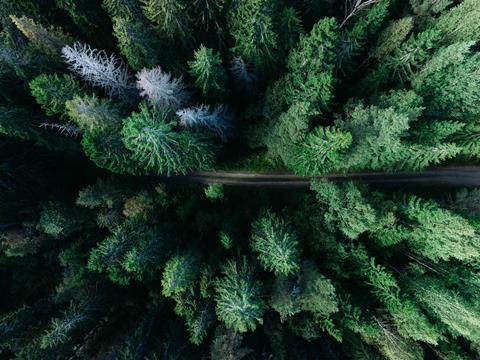 Aviation is so important to our society, our industries, our economy, that we must keep flying, but also while reducing emissions. There are multiple decarbonisation levers and all these will of course be important, be it upscaling SAF or introducing new propulsion technologies. But when we think of the wider ecosystem that can contribute to the world's climate goals – nature itself will also play a vital role.
Climate scientists are clear that using nature to absorb and store carbon is an important part the energy system transition. The United Nations' Environment Programme (UNEP) wrote in its November 2021 report on Nature-based solutions for climate change that a cautious interpretation of existing evidence indicates that by 2030, nature-based solutions implemented across all ecosystems can deliver emissions reductions and removals of at least 5 GtCO2e per year.1
This is particularly true for a sector like aviation, where the fundamentals of the industry make it one of the most difficult sectors to decarbonise.
Fiercely cost competitive, with fuel accounting for a significant share of airline costs, it also has many of the structural characteristics common across 'hard-to-abate' sectors, such as long asset lifespans, high energy dependency and being difficult to electrify.
Multiple decarbonisation levers
In order to navigate this challenge and accelerate the pathway to net zero, the aviation industry will need to use multiple levers over the next 30 to 40 years.
In the short to medium term, technology must be used to create the operational efficiencies that avoid emissions in aircraft, fuel, and ground operations, focusing on supply chain and improvements in aircraft design and ways of operating.
Also, the supply of sustainable aviation fuel must grow to levels where aviation can reduce emissions at scale. This will require the support of ambitious government policies that encourage the large-scale adoption of alternative fuels.
But alongside measures to avoid and reduce emissions, offsets have an immediate role to play in helping aviation to reduce its net emissions. They will be particularly important during the time it takes to fully develop other ways to decarbonise the sector.
High-quality offsets
At Shell we support the responsible use of high-quality offsets. They provide a way to compensate for emissions through buying carbon credits generated by projects that either reduce greenhouse gases – for example, by using natural environments to absorb carbon dioxide – or avoid adding to them.
Our Environmental Products business is one of the largest carbon market participants in the world and we are engaging with our customers to help them purchase carbon credits to offset emissions that they cannot yet be avoided. Across our business we're aiming to offset around 120 million tonnes of emissions from the use of our products by 2030.2
Through the provision of certified, high-quality carbon credits Shell is already supporting the decarbonisation journey of airlines, including Etihad Airways and Jetex, giving passengers more choices to compensate for emissions whilst sustainable fuels and technology solutions can be deployed at scale.
Overcoming scepticism
But there are barriers to expanding the use of offsets. As uncovered in our recent report, Decarbonising Aviation: Cleared for Take-off, scepticism exists within the aviation industry, civil society and the public when it comes to the value of offsets.
There are doubts, in particular, as to whether offsets and carbon credits legitimately compensate for CO₂ emissions. Many people don't understand what defines a high-quality offset. Given their importance for the decarbonisation of the sector, it's vital that all parties across aviation work together to address this.
We support the industry view uncovered in the report that offsets need greater transparency and more agreement about the standards required for a credible, high-quality offset. We also agree with the industry that the benefit of using offsets now as a vital tool in decarbonising aviation must be more clearly communicated to all stakeholders, including consumers.
All parties have a role to play in helping to improve understanding surrounding offsets and increase their appeal to passengers. At Shell we are focused on playing our part - ready to co-operate with airlines and airports in helping to provide customers with clear and accurate information about offsets.
A necessity, not a choice
From an aviation perspective, the use of high-quality, nature-based offsets can help airlines and passengers mitigate their net carbon emissions today, whilst SAF and technology solutions are being developed and are deployed at scale.
If airlines and the wider aviation sector are to meet net-zero emissions targets, offsetting is not a choice but a necessity.
Visit Shell Aviation on LinkedIn to find out more about nature-based solutions.
[1] UNEP, Nature-based solutions for climate change mitigation, November 2021, https://wedocs.unep.org/xmlui/bitstream/handle/20.500.11822/37318/NBSCCM.pdf

[2] https://www.shell.com/energy-and-innovation/the-energy-future/our-climate-target/_jcr_content/par/relatedtopics.stream/1612987226583/4115c96421e7441230e91f1487f44ac2c8e923ab/our-climate-target.pdf