Sikorsky is pitching its X2 high-speed helicopter technology to customers outside the USA and has spun out a conceptual multirole rotorcraft it now calls the 'International Twin'.
The X2 architecture uses a rigid co-axial main rotor coupled with a tail-mounted pusher propeller to deliver high-speed in forward flight but also impressive levels of agility.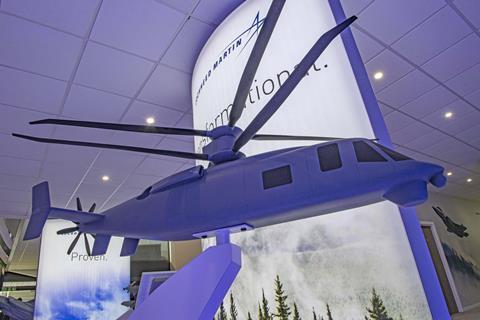 Outside of the airframer's self-funded demonstrators, X2 technology has been applied to two platforms proposed to the US Army: the Defiant X that Sikorsky and Boeing jointly pitched for the service's Future Long Range Assault Aircraft (FLRAA) requirement, and the Raider X for the Future Armed Reconnaissance Aircraft (FARA) contest.
But Sikorsky sees an opportunity "for a third, complementary X2 platform" which would be "purpose-built to fulfill international multi-domain operations".
Jay Macklin, director army and Future Vertical Lift strategy and business development at Sikorsky, says the company has "had a lot of interest internationally about the X2 technology".
He points to the scalability of the X2 architecture which Sikorsky has applied on aircraft ranging from a 2,720kg (6,000lb) demonstrator, all the way up to the 13,600kg SB-1 Defiant.
"What we are saying is that there are a wide range of opportunities for customers to take advantage of what X2 can offer.
"We really believe that in the future operating environment [speed and manouevrability] are attributes that are critical to survivability."
A scaled model of the International Twin, shown at Defence IQ's International Military Helicopter conference in London in late February, suggests a rotorcraft that would sit between the Defiant X and Raider X, accommodating nine to 12 troops in a transport configuration.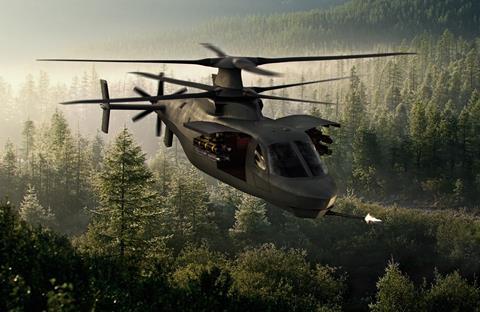 Having lost out to the Bell V-280 Valor in the FLRAA contest – albeit a decision that is subject to protest – a FARA win could still potentially allow the Raider X to be available in the future through the USA's Foreign Military Sales process.
With the Raider X tailored to a specific US Army armed scout mission it may not match the wider demands of the international market, but Macklin sees the underpinning X2 technology as having much broader sales potential: "The technology can be available for a lot of different [applications] for a lot of different countries," he says.
In addition, Macklin sees strong potential for any such aircraft to be rapidly reconfigured from one role to another, hence the 'twin' in Sikorsky's branding.
Meanwhile, the US airframer is looking to contribute to a project being run by six NATO members which could deliver a new medium-class helicopter in the 2030s.
Although dominated by European nations, as a NATO initiative, the Next Generation Rotorcraft Capability programme's concept stages are open to industry from any alliance member.
Macklin says Sikorsky will "definitely" seek participation in any studies that are open to the market.
"We feel we have very relevant technology that would help inform their requirements and would make a difference on the battlefield of tomorrow," he says.

Dominic Perry is deputy editor of Flight International but also contributes extensively to flightglobal.com. Although specialising in the coverage of the helicopter industry, he has written on most topics in aerospace – be they commercial, defence or business aviation. In addition, there has been an increasing focus on the decarbonisation of the industry and zero-emission flight initiatives.
View full Profile