Almost two years into the coronavirus pandemic, the worst could be over for Singapore's aerospace industry, which sees itself a market leader in the region.
In October, the city-state's manpower ministry said the industry was looking to hire around 1,000 people over the next two years. Companies looking to hire included big beasts such as Pratt & Whitney, which has a number of joint ventures in Singapore, as well as GE Aviation.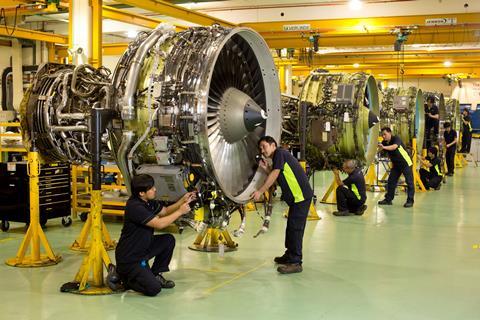 Singapore-based ST Engineering, meanwhile, was reported to be hiring 200 people by this year.
Manpower minister Tan See Leng, who is also Singapore's second minister for trade and industry, said then that the outlook for the industry was "positive". Tan also expressed optimism that the industry will rebound after taking a severe hit.
While the minister's comments reflect the buoyant sentiment in the industry, it also highlights the stark difference in fortunes from more than a year ago, when aerospace companies were turned on their heads amid a collapse in travel demand.
At the onset of the pandemic, a number of aerospace players – including P&W and Rolls-Royce – made some of their employees redundant, among other cost-cutting measures.
Indeed, the numbers disclosed might seem small, but they represent a marked shift in the industry's performance, especially when compared to the onset of the pandemic, when several companies shed workers amid a collapse in travel demand.
They also underscore the importance that Singapore's government has placed on the aerospace sector, which, pre-pandemic, contributed around 10% of global MRO output.
POSITIVE SIGNS
There is optimism among Singapore-based aerospace companies that the industry has turned the corner, after a tough two years through the pandemic.
The Association of Aerospace Industries Singapore (AAIS), an industry body representing aerospace companies, says the sector saw its fortunes reversed – sharply – amid the pandemic.
Association president Wong Yue Jeen tells FlightGlobal the sector saw double-digit growth in pre-pandemic 2019, but barely a year later, the pandemic had led to "a corresponding sharp contraction" in earnings.
Data from the AAIS and Singapore's Economic Development Board indicate some member companies seeing revenue declines as much as 90% compared with pre-pandemic levels.
Still, developments in the latter half of 2021 – particularly a robust freighter market, as well as recovery in major domestic markets – have buoyed market sentiment.
Foo Kean Shuh, SIA Engineering (SIAEC) senior vice-president, corporate planning, fleet management and commercial, says the contracts it clinched in 2021 – including providing test services for CFM's Leap family of engines – were "positive signs of recovery".
Adds Foo: "We are encouraged by the various government strategies to stimulate air travel with the expansion of bilateral agreements for quarantine-free travel for fully vaccinated travellers."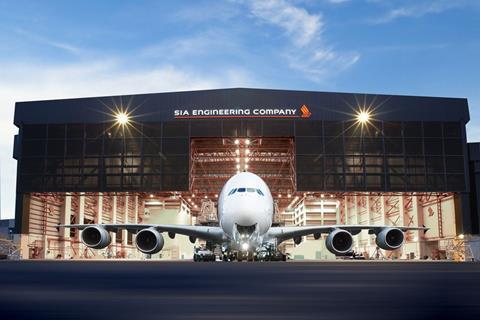 ST Engineering president for commercial aerospace Jeffrey Lam, meanwhile, adds: "As we enter into a new year, with more countries learning to manage Covid-19 as endemic, we are hopeful that we will not revert to the days of crippling border controls and measures."
AAIS's Wong adds: "The crisis has had its casualties among businesses but has also created new business opportunities which the Singapore aerospace community is quickly adapting and moving on to.
"Aerospace companies here have really made full use of the time to be productive – by accelerating digital transformation, reskilling and upskilling their staff, and investing in capabilities for the future."
FRESH OPPORTUNITIES
Indeed, as the pandemic upended the industry, Singapore-based aerospace companies quickly sought alternative revenue streams.
AAIS's Wong notes that member companies exploited new business opportunities, including cabin reconfiguration, and aircraft parting out services.
He adds: "For businesses with cash reserves, exploring mergers and acquisitions is an option. Diversifying to other growth areas like health and safety related services, unmanned systems, and defence has been another strategy observed."
ST Engineering struck gold in freighter conversions, an area it has called a "key growth area" in the near to medium term. While MRO-related work took a hit during the pandemic, the company ramped up capacity in conversions in global locations in the USA and China.
While it focuses on Airbus A321 freighter conversions, the Singapore company has begun working to convert A320s and A330s into freighters.
As early as last May, the company pointed out that there was "strong market demand" for dedicated freighters, as passenger travel demand remained in the doldrums. In the same month, it incorporated its freighter leasing joint venture – named Juniper Aviation Investments – which it set up to "address the growing demand for freighter aircraft as e-commerce and air cargo volumes expand across the globe".
The unit targets to build a portfolio valued at about $600 million within five years, investing in passenger aircraft to be converted into highly efficient freighters.
ST Engineering's Lam says one key lesson amid the boom from freighter conversions was the importance of supply chain diversification and management.
He tells FlightGlobal: "[The] supply chain for conversion kits for our P2F (passenger-to-freighter conversion) business had come under stress. This had been exacerbated by the huge surge in demand for freighter conversion."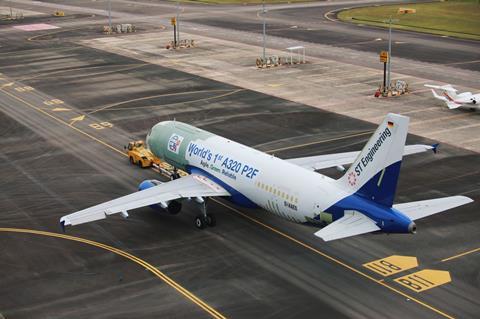 Adds Lam: While the impact of border control was not unexpected, Covid-19 underscored the importance of supply chain diversification and management, and demonstrated how pandemic control measures can cause severe disruption not only for the movement of goods, but also for everyday operations."
As for SIAEC, it took the lull period at the onset of the pandemic to "press ahead" with its multi-year business transformation programme. Foo tells FlightGlobal the MRO unit is "accelerating the pace of transformation by investing in digitalisation, automation and adoption of lean methodology to enhance and create value for customers".
The company also made "necessary investments and adjustments" to its portfolio amid the pandemic.
For instance, it divested its shareholding in line maintenance firm Aviation Partnership (Philippines) to joint venture partner Cebu Pacific, while acquiring the remaining 35% in SIA Engineering Philippines from the low-cost carrier.
The shift in shareholdings in the Philippines reflects its MRO strategy. Foo says SIA Engineering Philippines will "serve as a lower cost base for SIAEC to compete for more narrowbody work", especially when near-term recovery is expected first with narrowbodies.
It also acquired from Airbus Services Asia-Pacific the remaining 35% shareholding in Heavy Maintenance Singapore Services, which it subsequently integrated into its base maintenance unit.
It also had been a key part of the first local disassembly of two A380s and one Boeing 777 formerly operating with parent company SIA.
The disassembly works took place at Changi Exhibition Centre, where the biennial Singapore airshow is held.
SIAEC was among the companies that was involved in the aircraft disassembly. Its role dealt mainly with "the removal, preservation and certification of valuable components for continued service".
SIAEC's Foo tells FlightGlobal that disassembly "is an area of interest to us that we are exploring".
He adds: "We will continue in our pursuit to emerge stronger through investments in new capabilities, technologies and services to expand our market growth and reach."
HOME ADVANTAGE
Aerospace companies point out that the city-state holds a number of advantages, which has been helpful in the recovery.
ST Engineering's Lam says: "Singapore's aerospace industry draws its strength from a multitude of factors which, to name a few, include its air hub status, credibility and quality of workforce."
He tells FlightGlobal that the "bedrock" is the country's "strong innovation ecosystem".
"ST Engineering is an active participant in this respect, having collaborated with research and learning institutes in a broad range of areas, from the development of aviation talent pipeline to R&D in additive manufacturing for applications in MRO," he adds.
AAIS's Wong says Singapore's aerospace industry has "kept abreast of" new technologies, both in terms of manufacturing and repair techniques, as well as using digitalisation and productivity improvements.
He adds: "The industry is also well-supported by up-to-date infrastructure, a strong talent pipeline, IP [intellectual property] protection and policies that enable businesses.
"Singapore aerospace companies may also have to look at opportunities to invest beyond Singapore, in geographical locations that facilitate better proximity and access to select customers and resources, while strengthening and transforming the Singapore base and hub," Wong notes.
The association president also points out that government support in the form of wage subsidies "[blunted] the impact of the crisis, and helped companies buy time to re-strategise, pursue alternative business models and opportunities, and implement transformation".
CAUTIOUS OUTLOOK
Despite the optimism, Singapore's aerospace industry maintains a cautious outlook for the future.
As SIAEC's Foo puts it: "There remain uncertainties to a sustained global recovery. The risks of new variants, spikes in infection rates or tightening of restrictions are reminders of the uncertain and uneven impact of the pandemic on the trajectory, timeline and levels of recovery in air travel across the world."
Lam concurs, noting that 2021's recovery trajectory was "on uneven footing", given the waves of coronavirus infections. Still, ST Engineering reported about two-thirds of pre-pandemic MRO capacity through the year.
He also points out that as markets recover, competition will also intensify, "with many market participants gearing up to ride the wave of recovery".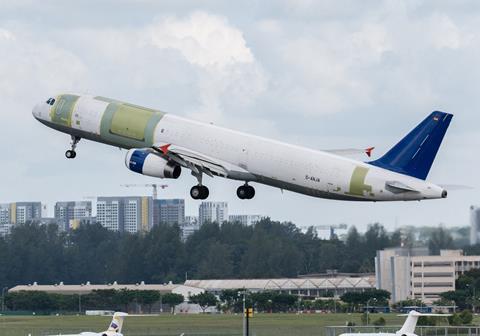 "To stay ahead of the pack, we have been building on the breadth and depth of our capabilities in nose-to-tail life cycle solutions. At the same time, we continue our focus on enhancing productivity by making our processes more digitised and automated, and on developing sustainable solutions to be in line with the industry's growing emphasis on environmental protection," says Lam.
AAIS's Wong agrees that competition will only heat up in a post-pandemic future.
He says: "We are anticipating the restructuring, consolidation, innovation and transformation of airlines, OEMs and major suppliers, and other trends like the re-shoring and continued re-evaluation of supply chains.
"Singapore will have to compete with smarter products and services, deployed via a combination of a skilled workforce, and technology solutions such as digitalisation, automation, blockchain, additive manufacturing, artificial intelligence, and so on," adds Wong.