A new whitepaper about air travel in Southeast Asia contends that the region's Covid-hit hubs should look to boost regional connectivity.
The whitepaper observes that Southeast Asia's connections with long-haul routes have been restored faster than regional routes. This, however, should start to change in 2022.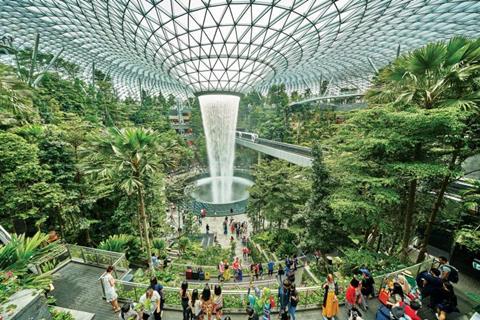 Sponsored by the Aviation Studies Institute at the Singapore University of Technology and Design, the whitepaper was penned by independent aviation consultant Brendan Sobie.
It focuses on the five biggest hubs within the Association of Southeast Asian Nations (ASEAN) before 2019: Singapore Changi, Bangkok Suvarnabhumi, Kuala Lumpur International, Jakarta Soekarno-Hatta, and Manila Ninoy Aquino. These five airports accounted of about 40% of passenger traffic before the pandemic.
While 50% of long-haul routes to ASEAN hubs have been restored, just 25% of international routes within the region and just 20% of international routes between ASEAN and the rest of Asia-Pacific have come back.
"As more markets in Asia-Pacific reopen the regional international segment – excluding China – is expected to start recovering faster than the long-haul segment," writes Sobie.
"The recovery within ASEAN should be particularly fast once borders reopen and travel restrictions are lifted. There are close cultural and economic ties between ASEAN countries and there is huge pent-up demand for travel within ASEAN."
There is, however, little hope of an imminent return of the strong China traffic that the region enjoyed in the pre-pandemic era. One way to help offset this is through improved regional connectivity.
"ASEAN hub airports need to recognize the importance of regional connectivity, particularly growing and establishing connections with secondary destinations in ASEAN along with – to a lesser extent – secondary destinations in other sub-regions of Asia Pacific," writes Sobie.
"ASEAN connectivity is their competitive advantage over hubs in other regions and is critical for driving overall growth in the post-pandemic era."
Unfortunately, opening up thinner, short-haul routes poses challenges. Sobie observes that ASEAN's big hub airports cater to larger aircraft at the expense of narrowbodies and turboprops – in essence the aircraft most effective at opening up new short-haul destinations.
Further, before the pandemic major airline groups had focused on up gauging aircraft sizes to better take advantage of limited slots. This dynamic is still in effect owing to the large residual orderbooks held by carriers such as AirAsia, Cebu Pacific Air, Lion Air, Singapore Airlines, and VietJet Air.
"Over the medium to long term airlines may be able to adjust their fleet strategies, but such adjustments are not likely unless slot and pricing policies at hub airports are adjusted accordingly," writes Sobie.
"Capacity increases at hub airports could help facilitate such adjustments if airport slots were prioritised for new connections to secondary destinations in ASEAN."