A trio of Australian operators have placed tentative orders for up to 90 of the electric take-off and landing (eVTOL) aircraft to be produced by Embraer's Eve urban air mobility unit.
Western Australia-based helicopter operators Avair and HeliSpirit, have signed a letter of intent (LoI) for 50 of the eVTOL aircraft, Eve disclosed at the Singapore air show. The pair are both are part of Australia's HM Group.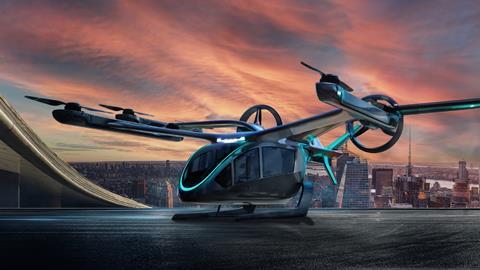 The pact envisages flights commencing by 2026 operated by Avair or HeliSpirit.
In addition, Eve has secured an LoI from Melbourne-based helicopter operator Microflite for 40 eVTOL aircraft.
Those deals build on a previous 50-unit commitment from Sydney Seaplanes, another Australian operator.
Eve and Microflite will use also helicopters to conduct proof of concept work that will help define future eVTOL operations.
"Our partnership with Microflite will see progressive commencement of carbon-neutral operations in the lead-up to first deliveries of zero-emission aircraft in 2026," says Eve co-chief executive Andre Stein.
"We look forward to learning together and building safe and scalable operations with the support of local communities."
During an air show briefing, Stein and David Rottblatt, Eve's vice-president of business development, discussed a similar project in Rio De Janeiro, which employed conventional rotorcraft to validate future eVTOL use.
While the eVTOL operations are still unproven, Rottblatt and Stein are confident that it will be a global success story. And although Sao Paolo may be the world's biggest market for helicopter shuttles, this does not necessarily mean Brazil will be the first location where eVTOL services take off.
Still, knowledge of this home market – as well as Embraer's success as an airframer – makes Eve an attractive partner for companies and regulators grappling with the evolving challenges posed by urban air mobility.
Eve's eVTOL aircraft will use electrically-powered propellers for climbing and descending, and two ducted fans for forward flight. Stein says that development work is continuing, alongside analysis of the production system that will build it.
"It doesn't go as far as the automotive industry, but it's a much higher number of aircraft per year than seen traditionally in aerospace.
"We do have a few years before we freeze the set-up for manufacturing. We are looking at production models that could be spread to different parts of the globe."
Embraer says it has nearly 2,000 letters of intent for its eVTOL aircraft, representing a potential value of $5.4 billion, from customers including airlines, helicopter operators, and lessors.
The airframer last year announced last year plans to float Eve on the New York stock exchange via a merger with listed business Zanite Acquisition Corp.