Senior industry leaders speaking at the Aviation CEO Forum, organised on the opening day of the Singapore Airshow by FlightGlobal with partners Experia Events and CFM International, believe that recovery is on the horizon – but that potential headwinds mean the sector is not fully out of the woods yet.
During a wide-ranging panel debate, Malaysia Airlines chief executive Izham Ismail, speaking virtually from Kuala Lumpur, said the carrier is "cautiously optimistic" about its prospects. He attributes a better-than-expected 2021 performance — the carrier was cash positive by October 2021 following a successful business restructuring — to a "yield-active focus".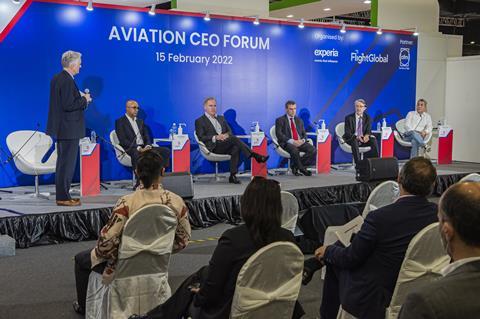 Leisure travel is expected to rebound first, followed by business and corporate travel, adds Izham.
The AirAsia group of carriers, meanwhile, expects growth from the second-half of 2023, with "plans to ramp up" by 2024. By end-2022, the group's carriers — in Indonesia, Malaysia, Thailand, the Philippines and India — are expected to operate two-thirds of their fleet, says AirAsia Aviation group chief Bo Lingam.
He also doubles down on the prospect of more AirAsia units in the region, hinting at two more airline joint-ventures to be announced within the year. FlightGlobal previously reported that AirAsia will announce in the next two months a new airline unit in Southeast Asia.
Lingam and Izham also call for a unified strategy among governments on reopening borders, given that the region has disparate rules and timelines on opening their borders.
Fellow panellist Lim Kim Hai, chairman of Australian carrier Regional Express, says a "meaningful size" for its jet operations — which it rolled out in 2021— would be between 20 and 30 aircraft. Lim adds that the airline is aiming to take between six and 10 jets a year.
Domhnal Slattery, chief executive of aircraft lessor Avolon, meanwhile is bullish about the Chinese market — still tightly shut amid strict pandemic restrictions — opening up.
Slattery says when the international borders reopen, which he predicts will be in the third or fourth quarter of this year, demand will rebound "dramatically".
Concurring, CFM International president Gael Meheust is "convinced" that the pent-up demand to travel will lead to growth across the industry.
"This industry is resilient…when you look at the longer term, I am convinced that because of the desire of the public to travel, we are going to see a growth of the traffic that we will continuously exceed the growth of the GDP in the coming year," Meheust adds.
Still, Robert Martin, chief executive at lessor BOC Aviation, warns that airlines will have to "raise equity…to grow, going forward". A failure to do so, says Martin, could set the industry back two to three years, especially in light of "potential headwinds" to come.
This is especially so as a number of carriers in the region exit restructuring.
"[We] have three potential headwinds coming this year, as traffic will grow. Oil prices have gone back up again…[interest] rates are going up, [and] we're seeing a lot of wage inflation and commodity price inflation that will feed through potentially in any contract," says Martin.