Boeing stands ready to pitch the KC-46 should the US government hold a competition for a possible acquisition of up to 160 new tankers under its nascent KC-Y requirement.
Leanne Caret, chief executive of Boeing Defense, Space & Security, also suggests that acquiring another tanker type would place an undue financial burden on American taxpayers.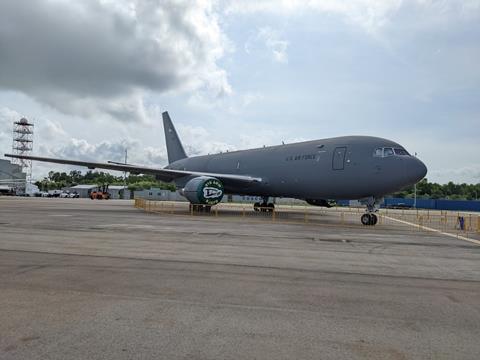 "I'm extremely proud of the KC-46 programme," says Caret.
Speaking at a media roundtable before the Singapore Airshow, she listed a number of accomplishments with the programme, such as its being cleared for 70% of receiving aircraft, and the delivery of over 55 examples since early 2018. The aircraft has also participated in exercises. A US Air Force (USAF) example is on static display at the Singapore Airshow.
The programme has faced challenges, however, namely with its remote vision system (RVS). Caret observes that the system is "based on technology that wasn't even envisioned or possible when we signed the contract".
The US Government Accountability Office (GAO) recently said that it believes that plans to fix issues with the RVS could result in additional risks for the programme, and takes issue with a plan by the USAF and Boeing to fully replace the system.
The aircraft's existing RVS performs poorly in certain light conditions, limiting the tanker's utility. For the time being, the aircraft is restricted to training duties, and is not cleared for combat missions.
As for KC-Y, Caret says the US government needs "to make a determination what they are going to do next… if they choose to compete, which is my understanding that they have not made a decision yet".
In June 2021, the USAF said it was seeking industrial partners to deliver up to 160 "Bridge" tankers, a commercial aircraft-based aerial refuelling jet that the service intends to acquire after Boeing stops producing KC-46s in 2029. KC-Y is envisaged as taking pressure off the service's ageing KC-135s and filling a gap between 2029 and the acquistion of a new tanker under its future 'Advanced Air Refueling Tanker' effort.
Lockheed Martin has been vocal about its willingness to compete for KC-Y. It recently disclosed its production strategy for the LMXT tanker, a proposed derivative of the Airbus A330-200. The A330-200 is also the basis of the Airbus Defence & Space A330 multi-role tanker transport, which has enjoyed strong success in international markets.
A key element of Lockheed's proposal is local production in Mobile, Alabama, with military conversion work to be performed in Marietta, Georgia.
Caret, for her part, insists that the KC-46 is the right aircraft for the USAF.
"It is the most advanced tanker out there in the world today and it plays multiple roles," she says.
Moreover, there would be significant costs involved should the USAF obtain a new fleet of tankers under KC-Y. Says Caret: "Financially, why would you hurt the taxpayer with something like that?"