Airbus Defence & Space and Singapore will collaborate on the development, certification and implementation of an automatic aerial refueling capability for the A330 Multi-Role Tanker Transport (MRTT).
A flight-test campaign for the new system is already under way, with certification expected in 2021, says Airbus.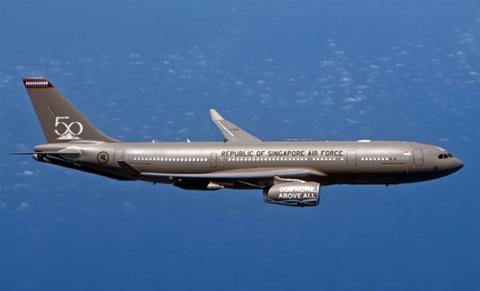 The agreement will see a Republic of Singapore Air Force (RSAF) A330 MRTT take part in the work.
Objectives of the activity include improving the aircraft's availability and mission success rate.
"With this agreement, the Singapore air force leads the evolution of the A330 MRTT, helping us to bring new hands-off capabilities to the benchmark of next-gen tanker operations," says Airbus head of military aircraft, Alberto Gutierrez.
The system, designated A3R, will reduce the air refueling operator's (ARO) workload, boost safety, and optimize the rate of fuel transfer.
When A3R is activated, the flight control of the aircraft's boom is fully automated and transfers fuel upon contact with the receiver, with the ARO in a monitoring role.
"The A3R development paves the way towards a fully autonomous aerial refueling operation," says Airbus.
Cirium fleets data indicates that Singapore has four in-service A330 MRTTs with two additional examples to be delivered. The type replaced the RSAF's Boeing KC-135Rs in 2019.