Boeing continues to see Southeast Asia as a strong future growth area, particularly for single-aisle jets, as it works to get the 737 Max back in the skies.
Randy Tinseth, vice-president of marketing at Boeing Commercial Airplanes, points out that Southeast Asia has seen a decade of strong growth, with three of the world's fastest-growing markets located in the region: Indonesia, Thailand and Vietnam.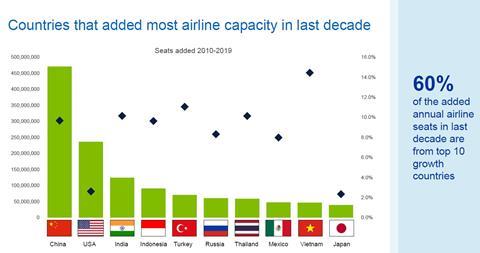 "Developing and emerging economies have been a catalyst for growth in the market," said Tinseth on a recent call with trade media. "As the economy and wages grow, so does traffic."
He notes that "not many years ago" only a small fraction of Southeast Asia's inhabitants had incomes over $20,000, but that this number is closer to 55% today, ensuring the region stays among the world's fastest growing for air travel.
He notes, however, that in the last decade the region has seen a profound shift to narrowbody aircraft from widebodies. Boeing estimates that available seat kilometres (ASKs) generated by widebodies and narrowbodies in Southeast Asia is at parity, but within ten years narrowbodies will account for the majority.
This translates into a 20-year narrowbody forecast for 3,650 units (for all manufacturers) and 820 widebodies, but just 10 main-deck freighters. Tinseth notes that main-deck freighters are ideal for long flights between the Asia-Pacific, Europe and North America, but that within Southeast Asia belly-hold capacity is sufficient. Boeing's forecast of ten sales is largely based on potential replacement buys by regional cargo operators such as Singapore Airlines and Malaysia Airlines.
The grounding of the 737 Max, however, has been a major setback for Boeing's narrowbody strategy in the region. The first of the two crashes involved a Lion Air 737 Max 8 in late 2018. Garuda, Lion, Malindo, Thai Lion and Silkair were all operating the type when the grounding was imposed.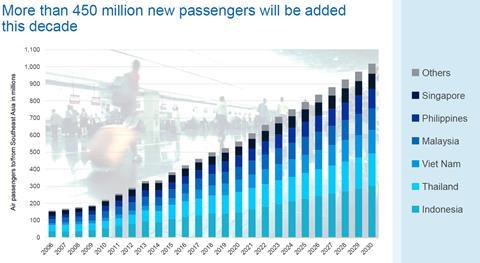 Executives at some carriers have also expressed concern that the regulatory un-grounding of the type will be staggered among jurisdictions, creating markets where the jet cannot be flown.
"There are a lot of regulators at the table," says Tinseth. "We continue to work with them all across the world. Clearly we're in a position where the FAA is the lead regulator, the regulator of record because of the US. We're making sure that we understand step-by-step, task-by-task what we have to do. Then we're taking those items and those tasks one by one, and working through them in a meticulous, thoughtful way."
A major aspect of the original 737 Max proposition was that 737 NG pilots would require no simulator time to convert to the new variant. In early January, however, Boeing reversed its long held position on this issue, stating that it now recommends simulator training. It is not clear if regulators will mandate training when the type is re-certificated, but a shortage of Max simulators globally could delay the return to service. Tinseth, however, does not see simulator training being a major issue.
"I see it having a minor impact in recurring training going forward," he says. "Frankly it's a simulator session and pilots are going to be in a simulator every six months. It will be a little bit of a cost and inconvenience as we get these airplanes back into service. But the airplane has been out of service for so long that Max pilots have to go through recurring training anyway. All-in-all [simulator training] is the right thing for us to do."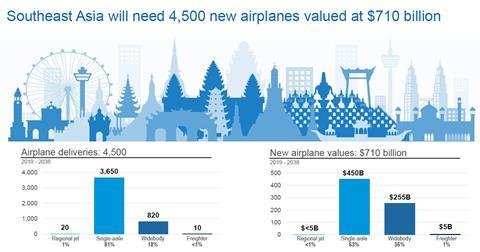 Tinseth adds that customers who had been considering simulator training have effectively had the decision taken for them. "It's the right thing for the market and the right thing to get that confidence back with our customer and the flying public."
Tinseth also addressed the prospect of future 737 Max orders once the type re-enters service. He stressed, however, that Boeing's top priority is getting the type back into service. This is intertwined with returning nearly 400 grounded aircraft to service, and then delivering the "close to 300 airplanes on the ground in inventory." He adds that, even before the 737 Max grounding, Airbus and Boeing were already selling aircraft for delivery in 2023 to 2024.
"I think we have customers out there that see the value proposition, and we'll be working with them to make sure they have confidence in the airplane, that their teams have confidence in the airplane, and that we restore confidence in the aircraft," says Tinseth. "At some point the orders will come back."