Curtiss-Wright is using the Singapore show to showcase a new-generation flight recorder that can store 25h of cockpit audio recordings, meeting a mandate for commercial aircraft set to take effect in 2021.
The company's Fortress recorders are designed for a range of commercial and military aircraft, including helicopters.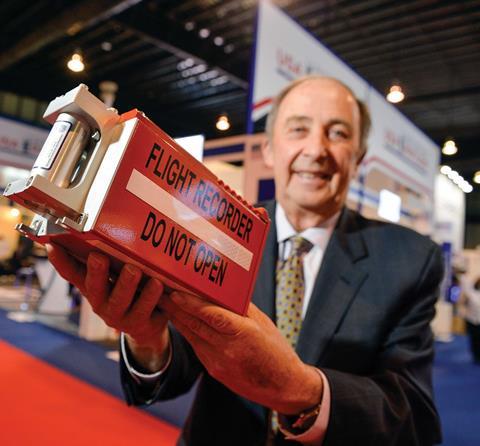 Units destined for commercial aircraft can be equipped with a wireless data transmission function that becomes active when the system senses unusual flight conditions, says Curtiss-Wright vice-president of sales and marketing Christopher Thomson.
The recorders are available for new aircraft and as a retrofit for existing commercial aircraft, without the need for wiring changes or other modifications.
Military versions of Fortress can also be fitted with data encryption, aircraft health monitoring technology and cockpit video capability, he adds.
Although Curtiss-Wright produces the recorders, its partner Honeywell sells them into the business aviation and commercial air transport markets, including a supply agreement with Boeing, Thomson says.
Thosefor the civil sector will be compliant with EASA regulations taking effect in 2021 which require large new-build commercial aircraft to have recorders that retain 25h of cockpit audio, up from 2h, and a means to determine the location of an incident.
The rules follow the 2009 crash of Air France flight 447, wreckage from which remained lost almost two years, and the 2014 disappearance of Malaysia Airlines flight 370.