At Rolls-Royce's sprawling facility in Singapore, the robots are feeling the heat — literally.
At its Trent fanblade manufacturing facility — the only other such facility outside of R-R's Derby headquarters — the robots take the lead in a process known as super plastic forming.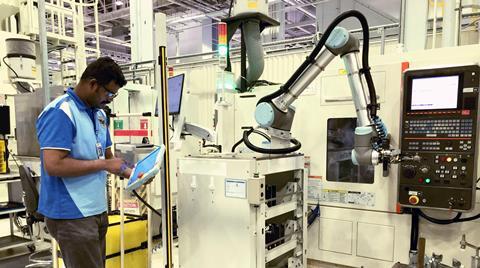 They place a fan blade into a furnace, twist it and inflate it with inert gas at a high temperature.
The robots were introduced to the production line in the second quarter of 2019, even before its Derby counterparts had them. R-R's Derby unit would be getting the robots, which were jointly developed with a local small-and-medium enterprise, this year, FlightGlobal understands.
It takes over a process that usually requires three workers, decked in protective suits, to perform. The workers would use a manipulative platform to carefully place the blade into the furnace.
Making use of robots, as opposed to human workers, improves productivity and safety, and brings about benefits in quality, R-R says.
R-R's Singapore campus now boasts two production units - an engine assembly unit, which assembles Trent 1000s (for Boeing 787s), and Trent 7000s (for Airbus A330neos), as well as the fanblade assembly facility.
The robots that face the furnace at R-R are but one example of innovation and technology that aerospace companies in Singapore have adopted.
PUNCHING ABOVE ITS WEIGHT
Singapore may not boast its own indigenous aerospace programme like its Asian counterparts China, Japan or India do, but the city-state is home to an impressive collection of the whos-who of the aerospace industry - 130 companies in total.
Many, like Rolls-Royce, set up shop at the Seletar Aerospace Park, situated in northern Singapore. The aerospace park is managed by state-owned JTC Corporation, and counts giants like R-R, Airbus, as well as Pratt & Whitney as its tenants.
Plans for the aerospace park was first unveiled in 2006, as part of a push to tap into the growing Asian aerospace industry.
According to figures from Singapore's Economic Development Board (EDB), the aerospace industry produced S$8.9 billion ($6.5 billion) in total output in 2016. The industry has also seen a 8.6% compound annual growth rate over the past two decades, the board states.
Singapore also contributes 10% of global MRO output.
The city-state was in 2016 named as the "Aerospace city of the future" by The Financial Times, which states that it has outperformed other countries in attracting investments, and is an "attractive location for innovation".
At a leadership forum for the country's aerospace industry, then-Minister for Trade and Industry S Iswaran exhorted the industry to ride the innovation and technology wave as it enters the future.
"We must continue to position ourselves to benefit from the opportunities arising from these trends, not only in MRO but also other segments like aerospace manufacturing and aftermarket services," said the minister, according to a report by The Straits Times. The Singapore government, said Mr Iswaran, would also do its part, to help companies upgrade to the most advanced technologies.
ROBOTS, DRONES AND EVERYTHING IN BETWEEN
On the other side of Seletar Aerospace Park lies another engine-maker's facility, and one where innovation is also making its presence known.
At Pratt & Whitney's component solutions unit, work processes are getting help from automation. The engine-maker announced in September that the facility is automating inspection, engraving and machining loading, which will help improve inspection quality and part inspection time.
It will be the first in the world to pilot these "transformational" work processes, and is part of four Singaporean aftermarket units — some of which are based in Seletar — that are embarking on a digital transformation, as part of the wider P&W "Connected Factories" initiatives announced last June.
The enginemaker's joint-venture with Singapore Airlines Engineering, Component Aerospace Singapore, will adopt artificial intelligence, as well as robotics, to its work processes. It states that it will pioneer the use of an "AI robotic visual-aided system with self-learning capability", as well as automation using robotics, to "streamline labour-intensive, manual processes".
P&W's blade and vane repair specialist, Turbine Overhaul Services, will be introducing AI into its inspection process. The technology, P&W says, will be a proprietary Piece Part Inspection.
The "Connected Factories" movement, which these initiatives are part of, will "enhance product quality, improve order fulfillment time up to 30%, reduce machine idle time up to 30% and reduce energy consumption by up to 10%, P&W states.
The enginemaker is also studying additive manufacturing closely. Brendon McWilliam, P&W's executive director for aftermarket operations in the Asia-Pacific region, tells FlightGlobal: "We are very close to industrialising an MRO process involving our first printed part for the PW4000 engine and hope to have that by the Singapore Airshow in February."
The innovation does not end at Seletar Aerospace Park though.
Homegrown giant ST Engineering has also been at the forefront of pushing innovation through its work processes.
Its aerospace unit has touted a future with "Smart MRO", which sees it adopting a myriad of advanced technology.
In one example, drones, equipped with 3D scanners, inspect aircraft fuselage for defects. Last June, ST Engineering said it was partnering Air New Zealand for such trials, under its DroScan system.
Drones are being used to inspect Air NZ Boeing 777s during heavy maintenance checks at Singapore Changi airport, cutting down inspection time from six to two hours. The drone takes a planned route around the aircraft's exterior, taking a series of high-definition pictures that are then processed by specialist software to detect and classify defects.
Under "Smart MRO", ST Engineering is also adopting other forms of advanced technology, such as augmented reality, AI and automation.
"Augmented reality glasses provide technicians with visual cues for each task and provide remote connectivity support, while wrist-worn devices track the activities in real-time," ST Engineering says, in one example.
The company is also looking to going paperless in its work processes. "Images of defective parts are uploaded for direct assessment and approval of replacement parts. Information collected will feed into the data analytics server for predictive analysis," ST Engineering adds.
Airbus, which has a large facility at Seletar as well, has used its Singapore base to explore what the "Hangar of the Future" would look like. Launched in 2016, the project see Airbus and Singapore researchers collaborate to "study new technologies that can improve the efficiency and productivity of MRO operations". Examples include the use of 3D printing and data analytics to improve such operations.
As for Boeing, it says Singapore houses its largest Boeing Training & Professional Services facility in Asia. The facility, which has six full-flight simulators and four flight training devices, is one of the only two such Boeing facilities in the world that can also train engineers and technicians to support the 787 composite structure maintenance.
INNOVATION AND SINGAPORE
When it announced plans for a Singapore facility in 2007, R-R hailed it as a "factory of the future", and represents "an important step forward in the development of the Trent programme and in [R-R's] wider relationship with Singapore".
R-R in 2017 also touted its Seletar campus as "a centre of gravity" for Singapore's digital transformation, particularly in the country's aerospace sector.
"Innovation is in Rolls-Royce's DNA and fuel for Singapore's ongoing transformation. The Applied Technology Group, one of Rolls-Royce's innovation 'strike teams', is located in the Seletar Campus.
"The group's objective is to develop advanced technologies to support core business areas—including aerospace, marine and power systems," the enginemaker writes.
It adds that it is also committed to growing the pool of local talent, through tie-ups with local tertiary institutions, for example.
Responding to FlightGlobal's queries, P&W's McWilliam says the enginemaker is "confident that Singapore will remain an important market in the wider aerospace value chain especially as demand for air travel by consumers in this region continue to grow".
He also notes that the Asia-Pacific region is home to some of P&W's "most comprehensive aftermarket presence" outside its home country of the United States.
"[Singapore] is also a fantastic place to incubate new innovations such as our Connected Factory initiative, especially with the support from organisations such as Singapore's EDB and the Agency for Science, Technology and Research," McWilliam tells FlightGlobal.
Singapore may not be the top thing on one's mind when thinking about aerospace, but through innovation and advanced technologies, it is steadily on its way to becoming a regional powerhouse — robots and all.