The Chengdu J-10A is making its debut appearance in Singapore's skies at this year's show, as part of the People's Liberation Army Air Force's (PLAAF's) August 1st display team.
The fighter's appearance is especially notable given Singapore's ban on travellers who have been to China within the last 14 days. The appearance is timed to celebrate 30 years of diplomatic relations between Singapore and Beijing.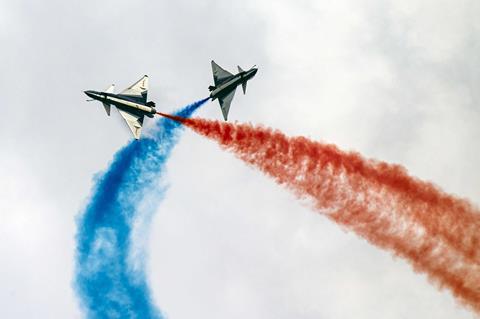 While the August 1st flies A-model standard aircraft, Beijing has gone on to develop more advanced B- and C-model variants.
The J-10B variant features an infrared search and track system mounted in front of the cockpit, modified control surfaces, an upgraded engine, and a lower radar cross section. The J-10C gains an active electronically scanned array radar.
Though the appearance of the J-10A is a sign of Beijing's impressive airpower development, it also highlights a significant weakness: engines. The jet is equipped with a Russian-built Saturn AL-31FN.
Subsequent versions of the J-10, however, have the WS-10 Taihang powerplant. At Zhuhai in 2019, a J-10B testbed surprised observers by performing a flying display powered by a WS-10 with thrust vectoring control. This marked a significant leap forward in Chinese engine technology.