Mitsubishi Aircraft arrives at Singapore unfazed by fresh delays to the development of the SpaceJet, with an M100 cabin mock-up taking centre stage at its booth and interest in developing a larger aircraft called the M200.
The M200 would carry about 100 passengers and arrive about two years after first delivery of the 65-88-seat M100, now scheduled for 2024.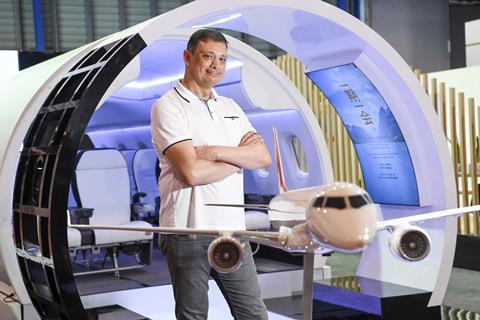 Meanwhile, Mitsubishi Aircraft continues working toward certification of the 90-seat M90.
The M100 cabin mock-up includes first-class seats in a two-by-one configuration and two-by-two economy seats in various pitches.
The SpaceJet's circular fuselage – which differs from the "double-bubble" structure of competitor Embraer's E-Jet – allows for a wider cabin at shoulder level, says Mitsubishi Aircraft head of global marketing and strategy Steve Haro. SpaceJet's economy seats are 47cm (18.5in) wide, offering more space than competing products, he adds.
Designed jointly by Safran and parent company Mitsubishi Heavy Industries (MHI), the cabin has sufficient overhead bin space to accommodate roller-bags for every passenger, says Haro.
Mitsubishi Aircraft launched the M100 at the 2019 Paris air show, pitching it as a clean-sheet competitor to Embraer's E175. Both models meet take-off weight limits for 76-seat aircraft as stipulated by major US airlines' pilot contracts.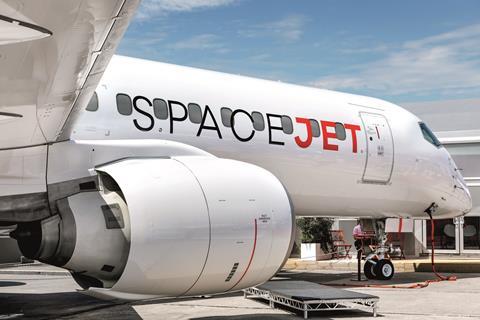 In launching the M100, Mitsubishi Aircraft cancelled the 69-seat MRJ70, which was several feet shorter. To keep the M100 under US airlines' 39,000kg (86,000lb) maximum take-off weight cap, it added lightweight aluminium-lithium fuselage skins to the M100 and carbonfibre tail components, redesigned the engine pylons and gave the M100 vertical wing-tips – rather than the MRJ70's outward-canted tips. Vertical tips sacrifice some efficiency but require less structural support in the wing, meaning weight savings, says Haro.
The M100 also has a smaller cargo compartment (located in the aft cabin), but overhead bin capacity compensates for lost hold space, Haro says.
Mitsubishi Aircraft anticipates M100 deliveries will start in 2024, followed by deliveries of the M200 two years later. The M100 will have range of about 1,250nm (2,320km), says Haro.
Mitsubishi Aircraft continues working toward an "authority to offer" the M100, says Haro. At that milestone airframers typically begin negotiating firm sales arrangements.
"To get to that point you have to have a lot more analyses – to show how this aircraft can drive efficiency in [airlines] network," says Haro.
On a 500nm flight, the Pratt & Whitney PW1200G-powered M100s will have a double-digit cost advantage over competing aircraft such as the E175, he adds.
But Mitsubishi Aircraft must still get the first SpaceJet variant – the 90-seat M90 – certified and delivered. Shortly before the show, MHI announced a fresh delay, with M90 deliveries now expected for between April 2021 and March 2022, or later.
Haro insists that after some 900 changes, and work with Japanese and US regulators, Mitsubishi Aircraft has arrived at a certifiable M90 design. First flight of the M90 is "not too far off", he says.