Singapore's aerospace industry will see inward investment of S$500 million ($360 million) over the next five years as global firms strengthen their presence in the city state.
Firms including GE Aviation, Rolls-Royce and Safran Aircraft Engines have signed agreements with Singapore government agency JTC for new or expanded facilities.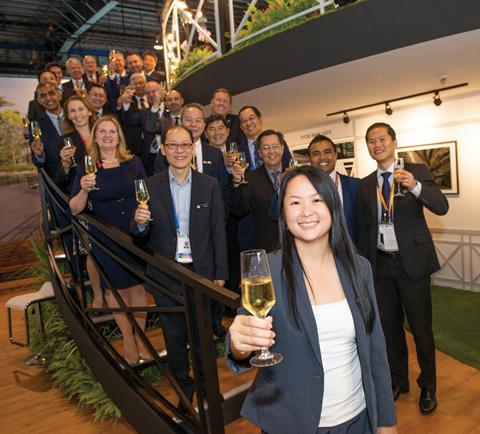 JTC is the land developer that manages the Seletar Aerospace Park in northeast Singapore, among other industrial sites.
Seletar Aerospace Park will be expanded to include nine ready-built standard factories for aerospace manufacturing and MRO activity.
"These new standard factories will incorporate the industry's requirements for higher technical specifications to cater for Industry 4.0 technologies and the use of heavier and larger equipment," says JTC. Work to further expand the park's capacity will begin this year.
Current residents of Seletar Aerospace Park are also growing their existing facilities. Bombardier is in the process of quadrupling the size of its Singapore service centre, taking the site to 930sq m (10,000 sq ft) - the airframer's largest in the region.
Component manufacturer RLC Group (Singapore) is also looking to lease an additional facility at the aerospace park.
New entrants to Seletar include aerospace parts distributor Proponent, as well as paints and coatings firm PPG. Both companies will open their respective facilities this year, says JTC.
Aerospace and defence supply chain provider Pattonair is looking to secure new premises at the park, while Ametek MRO is in discussion with JTC for future facility requirements.
Elsewhere, JTC also inked a series of deals with aerospace companies for new facilities.
Engine overhaul joint venture GE Aviation, Overhaul Services - a partnership between Singapore Airlines Engineering (SIAEC) and GE Aviation – will build its plant at JTC's Loyang estate in the east.
SIAEC has also identified JTC's Changi North estate as a potential site for engine maintenance services on Leap engines produced by CFM International, which is jointly owned by GE and Safran Aircraft Engines.
Lastly, SIAEC and R-R's joint venture, Singapore Aero Engine Services, is exploring expanding its operations at JTC's Loyang estate.
JTC chief executive Ng Lang says: "The series of new facility openings and expansions is a vote of confidence for JTC estates and Seletar Aerospace Park. Our estates will continue to support the success of businesses, and grow the ecosystem from strength to strength."
Singapore's aerospace industry output surpassed S$11 billion in 2018, and has seen a compound annual growth rate of 10% since 2015.