Airpower is fundamental to Singapore's status as a sovereign nation. The tiny country, among the world's most prosperous, utterly lacks strategic depth. It relies on foreign nations for its food and energy needs. Its economy is highly exposed to global trade. Yet for all its lack of landmass, Singapore's geography commands the vital chokepoint where the Straits of Malacca meet the South China Sea, through which pass the shipping that is the lifeline for the major powers of North Asia: China and Japan. Location has made Singapore rich, but this prosperity requires insurance in the form of a strong military, the back bone of which is the Republic of Singapore Air Force (RSAF).
Among its Southeast Asian counterparts, the RSAF is unmatched. In addition to a powerful force of fighter aircraft, it has invested in crucial enablers such as airborne early warning & control (AEW&C), air-to-air refuelling, force networking, and advanced unmanned systems. Moreover, it takes training and maintenance seriously. From the perspective of both capability and size, the RSAF resembles the large, powerful air forces of North Asia, as opposed to the somewhat ramshackle air forces of regional neighbours. While Singapore is on good terms with neighbours and plays an important leadership role in the region, the country's leaders are cognizant of the far larger size of nations such as Indonesia and Malaysia.
Perhaps more concerning is China. While Sino-Singapore ties are strong, Beijing is aggressively increasing its ability to project power into Southeast Asia. With no justification under international law Beijing has laid claim to the entire South China Sea, where it has developed a string of island air bases.
A recent New York Times report detailed its development of a major runway in a remote part of Cambodia that will be able to support Chinese airpower in the South China Sea. Moreover, analysts speculate that its recently commissioned second aircraft carrier, the CNS Shandong, will spend most of its time in the South China Sea. Analysts fret that the South China Sea, not Taiwan, has the greatest potential to be a flashpoint between Beijing and the US.
"Singapore is an important partner of the US and Australia, that is also facing increasing pressure from a rising China that is clearly establishing control of the South China Sea, and seeking ultimately to get the Association of Southeast Asian Nations (ASEAN) into a compliant position that acquiesces to Beijing's interests," says Malcolm Davis, senior analyst, defence strategy and capability at the Australian Strategic Policy Institute.
"For airpower, Singapore has two challenges. How to respond to China's growing airpower reach, particularly if it forward deploys airpower into contested territories on artificial islands in the South China Sea, and also into bases in Cambodia. Secondly, how to protect its interests in the event of an intra-ASEAN dispute, notably with Malaysia."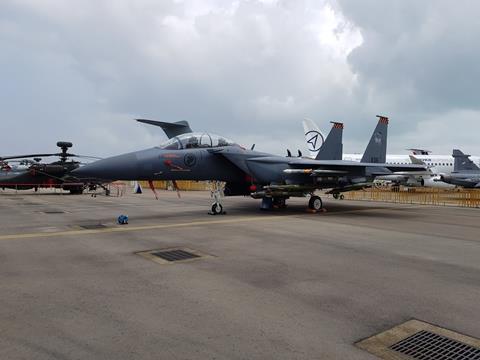 Given this context, Singapore's most important airpower move since the last Singapore air show in February 2018 was the decision to acquire four Lockheed Martin F-35s for testing purposes, with options for an additional eight. The early 2019 announcement was not entirely surprising: Singaporean leaders had hinted at F-35 interest for several years, and Singapore is an observer in the programme. The deal moved a step closer to reality in January when the US State Department approved the Foreign Military Sales case for up to 12 F-35Bs, finally confirming that Singapore will take the short take-off and vertical landing (STOVL) variant.
While long expected, the acquisition raises the stakes in the region, with Singapore to become the first regional operator of a stealth aircraft. The F-35B makes imminent sense given Singapore's small geography and limited basing options. The ability to disperse small numbers of F-35Bs in the event of a conflict would have an obvious attraction to the country's defence planners.
"The F-35 – and particularly the 'B' STOVL variant - makes sense for Singapore as it allows it to add a next-generation fighter that enables it to maintain mil-tech superiority over its neighbours and meet a longstanding power projection approach aimed at identifying, targeting, and engaging a foe long before it reaches the country's borders," says Forecast International Analyst Dan Darling.
"Due to its limited land area and thus its vulnerability to enemy airstrikes and missile/rocket strikes on its runways, the STOVL capability eliminates the need to line up aircraft on an airfield, instead allowing the RSAF the ability to disperse its fleet rather than subject them to being hit on the ground or rendered inoperable due to damage to its runways."
He adds that the F-35 will enhance interoperability with two key allies, the USA and Australia. Defence Minister Ng Eng Hen has spoken of the stealthy type replacing Singapore's powerful fleet of 60 F-16s. Still, the F-16 will be around a while yet. Most or all of the fleet will be upgraded to the F-16V standard, with improved avionics and Northrop Grumman's AN/APG-83 active electronically scanned array (AESA) radar. Following the upgrade programme the F-16V is likely to serve into the 2030s.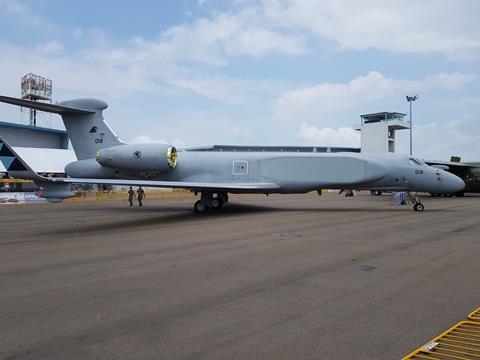 The mainstay of RSAF power remains its fleet of Boeing F-15SGs. An evolution of the US Air Force's F-15E Strike Eagle, the F-15SG is the most capable type in Singapore's air force. It includes the Raytheon APG-63(V)3 AESA radar, the Lockheed Martin Sniper targeting pod, an infrared search and track sensor and an Israeli-supplied electronic warfare system. Officially Singapore has 24 examples, but the actual number is understood to be 40. While Singapore's defence establishment is quite open on topics such as its participation in international exercises and humanitarian relief work, it tends to be coy about its order of battle.
To coordinate this comprehensive aerial armada Singapore has the region's most advanced airborne early warning (AEW) capability. This comes in the form of four Gulfstream G550 AEW&C aircraft, modified to carry the Elta IAI EL/-2085 multi-band radar.
Another major development in the last two years is the arrival of the Airbus Defence & Space A330 multi-role tanker transport (MRTT). Singapore confirmed an order for the type in 2014 and received its first of six examples in 2018. The type has replaced the RSAF's geriatric fleet of KC-135Rs. The type made its overseas exercise debut during Exercise Forging Sabre, which ran at Mountain Home AFB in Idaho in early October – the RSAF has a detachment of F-15SGs located at the base.
Other examples of RSAF capability growth include the final operational clearance of the IAI Heron 1 system in 2017, and the 2016 decision to acquire an undisclosed number of Airbus Helicopters H225Ms and Boeing CH-47F rotorcraft as part of a fleet modernisation programme. The Caracals and Chinooks will respectively replace the Republic of Singapore Air Force (RSAF's) existing AS332 Super Puma and CH-47SD helicopters. These have been in service since 1983 and 1994.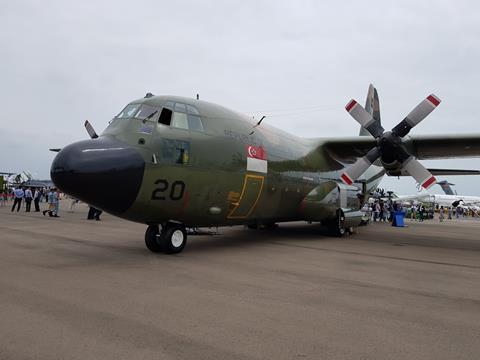 Given the vital importance of open sea lanes, Singapore places a high premium on maritime awareness. In the maritime patrol mission, it operates five Fokker 50 MPA Enforcer Mk 2 aircraft, which also have an ASW capability. These aircraft have been in service since 1995. In a 2017 interview, former chief of the Republic of Singapore Air Force Major-General Mervyn Tan said that the country would continue to operate them as "it is operationally and economically feasible… We will explore further upgrades or procure new systems when necessary to ensure we remain capable of meeting Singapore's security needs."
If exhibits at the 2018 Singapore air show are anything to go by, Singapore is willing to consider some innovative approaches to maritime patrol mission. These include extended use of UAVs for roles such as deploying and monitoring fields of sonobuoys. At Singapore's biennial IMDEX naval show in May 2019, several UAV makers said they see significant potential in the region for small, unmanned vertical take-off and landing (VTOL) systems that can be deployed from warships. Such systems would be highly effective operating from Singaporean naval vessels.
Davis gives the RSAF high marks, yet notes distinct strengths and weaknesses: "In terms of strengths there is clearly a qualitative edge generated by advanced technology capabilities, notably networked and joint forces with high sustainability and readiness, and a recognition that absence of territory means they have to project power in a timely and responsive manner. Weaknesses – I'd say that lack of strategic depth is always going to be a challenge if they face a major power like China, or if their neighbours were to suddenly adopt a more modern approach to force development."