Against the backdrop of the iconic Marina Bay Sands in downtown Singapore, the aircraft took off, circling the Marina Bay area for two minutes, before landing.
That marked the first-ever manned flight in an Asian city for urban air mobility company Volocopter, which used its 2X prototype for the test flight in October last year.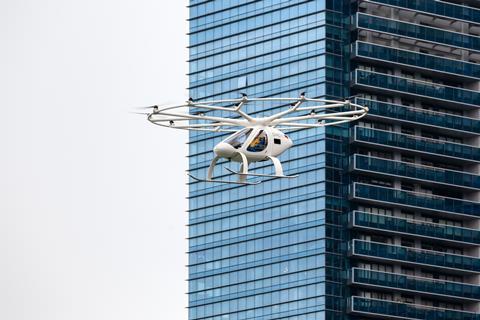 Meanwhile, halfway across the island at Nanyang Technological University, Professor James Wang is eagerly building up his team of researchers, and is actively on the hunt for funding and industry partners.
His goal? To build the first Made-In-Singapore electric vertical take-off and landing (eVTOL) aircraft within the next decade.
As the urban air mobility scene heats up across the world, Singapore joins the growing number of cities studying the concept closely, even while it takes small, cautious steps.
In Asia, Guangzhou was last August picked as an urban air mobility testbed city by Chinese autonomous unmanned air vehicle firm EHang. EHang's foray into urban air mobility has been gathering pace, with the company conducting more than 2,000 test flights so far.
It most recently flew its first test flight in the United States, as it works towards getting certification for unmanned air vehicle flights in the country.
Airbus has also flagged broad opportunities in Asia-Pacific for urban air mobility. In an August interview with FlightGlobal, the airframer says it was hopeful that urban air transport will become more affordable and accessible in the coming years.
Back in Singapore, Volcopter's maiden sortie last year was part of the German firm's efforts to bring commercial air taxi services to the city-state. It was also the last stage of tests — which began early last year — to verify and validate Volocopter's ability to fly over the Marina Bay area.
Volocopter's plans to test its flights in Singapore were first unveiled in 2018, on the back of trial flights in Dubai a year earlier.
The company, at its Singapore maiden flight last year, also constructed a prototype of the VoloPort, in which it is collaborating with UK ground infrastructure developer Skyports.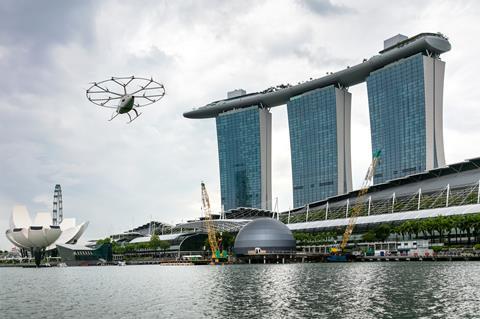 The VoloPort has been described as "the world's first vertiport for electric vertical take-off and landing [eVTOL] aircraft". Volocopter adds that the VoloPorts "are the only physical infrastructure required for air taxis and they are one important step to commencing operations in cities".
The Civil Aviation Authority of Singapore (CAAS) was reported in Singapore media as saying that air taxis had the potential to transform mobility and logistics in urban cities.
Volocopter, it added, is at the forefront of such new and innovative technology in the aviation industry. "CAAS is pleased to work together with Volocopter to study the technical capabilities and develop appropriate operational guidelines to facilitate such trials in Singapore," the authority said.
In 2018, the CAAS also earmarked a drone estate in western Singapore "to facilitate the trial of innovative UAS (unmanned aircraft systems) technologies and commercial use-cases in a controlled urban environment".
As of 2018, there were at least five entities, including Airbus, cleared to test new technologies in the one-north estate.
The CAAS has also been working with the European Aviation Safety Agency (EASA) and Airbus in the same year, to develop safety standards and regulatory requirements for the use of unmanned aircraft systems in urban environments.
According to NTU's Prof Wang, Singapore is best-placed to be at the forefront of the push into urban air mobility. The country, he tells FlightGlobal, has the advantage of being "the gateway to Asia".
"We are very close to China, Japan…Australia, so if we can develop this technology here in Singapore, we can export them and also [be the provider] of [the] technology to Asia and beyond," Prof Wang, who helms the university's eVTOL Research and Innovation Centre, adds.
Singapore is also home to an educated workforce: " It is a good opportunity to train young people in Singapore, and put Singapore on the world map for aerospace and transport technology."
He adds that at this moment, only less than 20% of research on eVTOL and urban air mobility comes from Asia, but in 10 years, more than 45% of eVTOL operations will be taking place in the region.
This, Prof Wang adds, is why there is a good reason for research to begin in Singapore, and is why NTU has launched a research institute, the first of its kind in the region. And because the industry here is still in its infancy, the "barrier to entry is not so high yet".
Despite the exuberance in getting urban air mobility off the ground, some challenges will still remain.
One key concern Prof Wang tells FlightGlobal that the urban air mobility industry should be cautious of, is how to "manage its public image".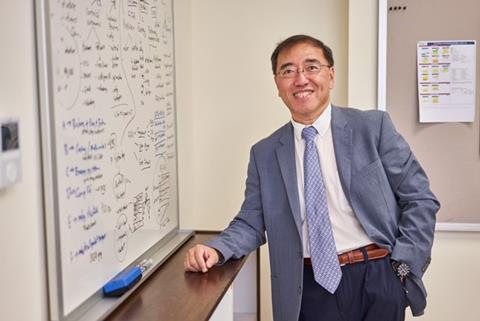 Given the relatively new concept that UAM brings, all parties will need to carefully ensure public perception - a key issue for the fledgling industry - does not veer into the negative side.
"It is a whole new start…a clean slate…for the eVTOL industry. It should be pitched as a…slick, green and different concept," Prof Wang adds.
At last year's Unmanned System Asia exhibition, the challenges of urban air mobility was discussed by speakers present. Panellists at a forum underline the notion that safety is, by far, the primary consideration as the UAM industry develops.
Maintaining communications with unmanned air systems will be a challenge in a 360 ̊ environment in Singapore. Another major challenge will be wind and weather, particularly for the smaller unmanned vehicles such as drones.
Other major hurdles, raised during the panel discussions, include infrastructure, traffic management, and even the business model under which air taxi operations are operated.
Some argue that given Singapore's relatively small size and well-designed public transport system, there may not be the need for an urban air mobility system.
While Singapore is no Tokyo or New York, in terms of urban density, there is still opportunity for urban air mobility to take root here.
Prof Wang points out one example of a potential route an eVTOL aircraft could be used in Singapore: from Singapore's Changi Airport to Sentosa Island, which could cut down travel time between both points. It will also help alleviate ground traffic and "improve the image as a modern city".
The aim, he adds, is to make it "price competitive" to attract people to make use of UAM.
In terms of regulation, Prof Wang says he is largely optimistic. The Singapore government, he says, is "encouraging" of urban air mobility as a future concept. That Volocopter was able to conduct its test flights here is indicative of the receptivity of the authorities towards such a concept, Prof Wang says.
The Unmanned Systems Asia panellists, shared similar sentiments.
While regulations vary widely between countries in areas such as flight clearances, generally the world's watchdogs understand the potential for UAM and are engaged in the process of how to help a new industry develop.
One way to allow for better regulatory oversight is to have a "Sky Bus" concept, with designated pick up and drop off points at regular intervals, says Prof Wang. This would be easier to control and plan, he adds.
Much still has to be done to push the urban air mobility concept in the mainstream, but hopes are high that one day, air taxis in Singapore will be just as ubiquitous as the many taxis plying the country's roads.
Until then, researchers like Prof Wang are doubling down on their work. "Perhaps you can put in a plug for me, that we (at NTU) are looking for financial partners to help us fund our work", he adds, chuckling.