Viewers of the film Crazy Rich Asians may get the sense that civilian helicopter operations in Southeast Asia are simple matter of 'get in and go'. One scene depicts a trio of three (clearly digitized) VIP helicopters fly in close formation from Singapore to a container ship sailing in the South China Sea that's the scene of an outrageous bachelor party. Later, seeking some quiet time, the best man and groom (one of whom happens to be a pilot) rotor off to the Malaysian resort island of Rawa, where they land on a floating platform next to a fishing dock.
In reality, non-military helicopter operations in Southeast Asia are still subject to a good deal of regulation, although this varies by country, with flights required to be planned a good bit in advance and stick to pre-planned routes. The region's billionaires are certainly able to afford a helicopter jaunt to a party, perhaps even a mega yacht, but such adventures are not as easy, or as common, as they would be in the USA, Europe, or the Middle East. Still, the region of 500 million represents an important frontier market for the sector.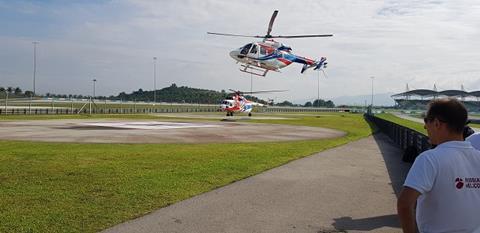 Cirium fleets data indicates that as of January 2020 there were about 679 non-military turbine helicopters among the ten nations that comprise the Association of Southeast Asian Nations: Singapore, Thailand, Malaysia, Laos, Cambodia, Indonesia, Vietnam, Myanmar, Brunei, and the Philippines. This is a 4.9% increase from 646 non-military helicopters in January 2019, and a 15% increase over 565 in January 2015.
"While we do not expect a significant surge, we should see a steady growth in the next one or two decades," says Vincent Dubrule, Head of Asia-Pacific at Airbus Helicopters. "We see fleet growth that will more or less follow GDP growth, meaning that all manufacturers will deliver around 2,500 helicopters in the entire Asia-Pacific over the next 20 years."
Key focus areas for Airbus Helicopters in Southeast Asia this year will be the H145 T2, which can be used for a number of parapublic missions, the super medium H175, and the new H160
While the overall numbers suggest respectable growth they hide significant usage trends. Over the last five years the number of helicopters used for business purposes, such as air taxis, charters, and private companies, have grown 216 from 164, a 32% increase. The number of utility helicopters has grown to 141 from 129, and the region's police helicopter fleet has risen to 109 from 86 five years ago. That said, continued weakness in energy markets has seen helicopters dedicated to the offshore mission decline to 110 examples from 122. Industry sources suggest that a good number of the region's offshore support helicopters are underutilized, if not grounded altogether.
Leonardo Helicopters vice president of sales for Asia-Pacific, Vincenzo Alaimo, however, says there are signs of life in the long beleaguered offshore energy sector, particularly in Malaysia, where oil comprises a significant proportion of GDP. He acknowledges that things have slowed down the last few years, particularly in flight hours, but that national oil firm Petronas is looking to renew current contracts, which could drive a fleet update.
Cirium fleets data shows that the company is a major operator of Leonardo products with 19 AW139s, two AW169s, and four AW189s. The average age of the AW139s is 7.6 years, and it also has a single Sikorsky S076 that is 13.9 years old.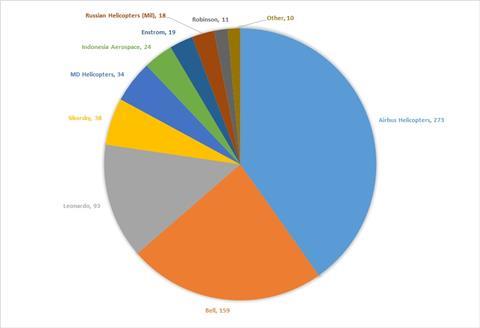 Another area showing considerable vibrancy in the use of helicopters for business transport in traffic congested cities such as Jakarta and Manila. In Jakarta, Whitesky Aviation has set up over 70 helipads around the capital, ferrying customers from the airport into the city and to other cities on Java. The company's fleet is comprised of two Bell 505s, two Bell 429s, and a single Airbus Helicopters H130. The company has been able to greatly reduce the time required to file flight plans.
One area that has seen marginal (if not disappointing) development is in dedicated emergency medical services (EMS), although manufacturers have talked this segment up as growth area. Cirium shows that in January ASEAN had just nine dedicated medevac/air ambulance helicopters, compared with seven five years earlier – though other helicopters may have basic EMS capabilities, such as the ability to transfer a patient on a stretcher. By comparison, Switzerland has 10 medevac helicopters for its population of 8.7 million.
"EMS is always difficult in this part of the world just because who pays for it?" says David Sale, managing director for Bell Asia-Pacific. The issue of cost in a region characterised by relatively low GDPs per capital is echoed by other industry observers.
Sale points to Thailand as a country that is making progress here with the police taking on the mission. While he believes the EMS mission is still in its "infancy" in the region, governments will increasingly take on the role of providers. He adds that as part of its efforts to the promote the mission, Bell held an event in China, which emphasised not just the helicopter aspect of EMS, but the organisation in infrastructure required to make it work.
Sale adds that the Singapore Airshow will see Bell promoting the new Bell Subaru 412 EPX, which is making its show debut. The company hopes to sell the updated type to legacy operators of the Bell 412EP and 412EPI.
Russian Helicopters is also keen to develop its presence in Southeast Asia. Owing to the broad usage of military types, namely the Mi-8/17 family, it estimates that the region has "more than 1,100 registered" aircraft either of Russian or Soviet Union manufacture.
In 2018 the company conducted a tour of the region with the new Kazan Ansat and Mil Mi-171A2 helicopters. During the visit, Russian Helicopters director general pegged the company's share of the Southeast Asia market at 2%, but that it aimed to increase this to 5-7% by the mid-2020s.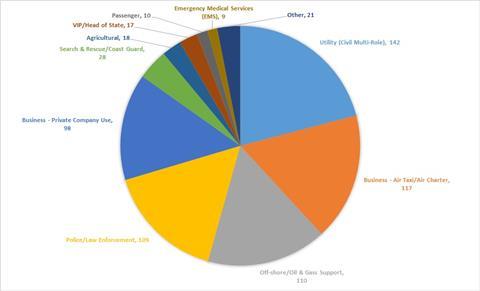 One challenge manufacturers see in the region, however, is in the area of maintenance, particularly for government-owned helicopters. In some cases, regional governments will put out support tenders and select the lowest cost provider. In the case of overhaul or major maintenance work, however, it can be difficult to assess the total cost of the work prior to opening a helicopter up and looking inside. Moreover, there are often cases where helicopters are not maintained correctly by operators.
"Some of the military customers and governments are slightly changing the approach, although there is another obstacle to consider: the involvement of local companies in MRO," says one industry executive. "There is always this push to develop local capabilities."
One OEM executive involved in helicopter MRO tells story of losing bids for component work to companies without proper accreditation or experience. Then, a week or two later, the tender's winner will reach out seeking parts at an uneconomical rate. Overall, he contends, this dynamic can hurt readiness and potentially have safety implications.
To help with this the big OEMs have a growing service presence in the region. Airbus Helicopters and Leonardo Helicopters operate extensive maintenance and support facilities in Kuala Lumpur's Subang Airport. Bell has a large presence at Textron Aviation's hangar at Singapore's Seletar Aerospace Park.
"An important point for ensuring the successful operation of helicopters abroad is after-sales service," says a Russian Helicopters spokesman. "We are also taking a number of steps in this area. Today, there are more than 20 service centres in Africa, Southeast Asia, Latin America, Europe and the [Commonwealth of Independent States] countries, some of which are certified by Russian Helicopters repair organizations."
While the focus of the Singapore Airshow tends to be defence followed by commercial aviation, it is also a key venue for civil helicopter OEMs. While Southeast Asia is not set to drive a boom in helicopter sales, the region's steady growth makes it an important long-term market.