A modernised version of the venerable Northrop F-5 has made its debut at this year's Singapore show, with the Royal Thai Air Force (RTAF) displaying a pair of aircraft upgraded to the new TH standard.
The F-5TH was commissioned into Thai service in late 2019 and are operated by the service's 211 Sqn from Ubon air base, located near the Cambodian border in the east of the country.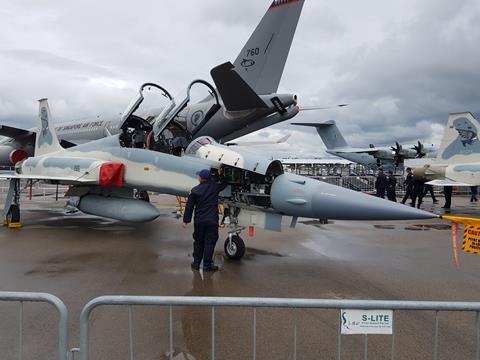 Modification work on the original F-5E was conducted in Thailand and includes the addition of a new Elbit Systems avionics suite and an all-glass cockpit. The aircraft also gain a Leonardo Grifo-F mechanically scanned radar, which also allows a slightly shorter nose.
Crucially, the F-5THs also feature the Link-T datalink, allowing close co-operation with other RTAF assets such as the Saab Gripen C/D and Erieye.
The addition of the new equipment has required some major changes, however. The single-seater at the show has had one of its 20mm cannons removed, while the two-seater has lost both of its guns.
Upgrades will be applied to 10 aircraft, enabling them to stay in service until the 2030s.
Corrected: A previous version of this story stated that the Thai F-5THs have the Grifo-E active electronically scanned array (AESA) radar. Leonardo confirms that the Grifo-E is still in development.