NASA called off its planned 29 August launch of the Artemis 1 rocket due to an engine-bleed problem, raising the prospect that the launch may be delayed until 2 September.
The space agency is working to understand the problem, however, and has not specified when the next launch attempt may take place, it says on 29 August.
The launch of Artemis 1 had been scheduled on 29 August at or after 08:33 local time in Florida. The rocket is sitting on launch Pad 39B at NASA's Kennedy Space Center near Cape Canaveral.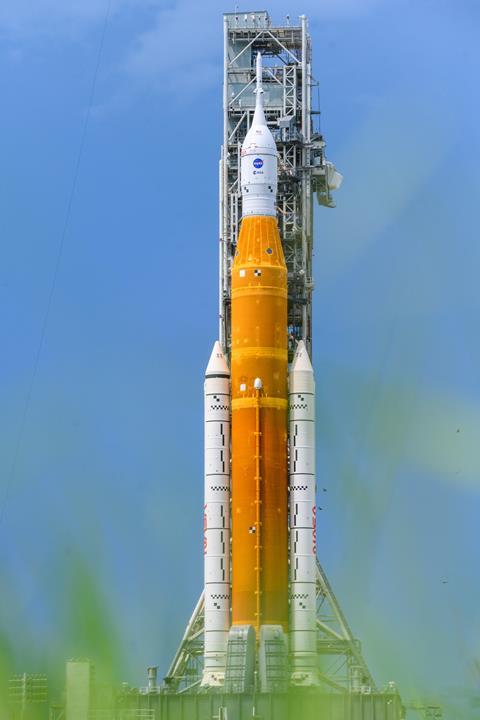 NASA "has called a scrub for today of the attempt of launch of Artemis 1 and the Space Launch System with the Orion spacecraft", the agency says. "The issue that came up was an engine bleed that couldn't be remedied… The rocket is currently in a stable configuration".
The Space Launch System includes a rocket core made by Boeing, with rocket engines made by Aerojet Rocketdyne and two solid-fuel burning rocket boosters made by Northrop Grumman.
Lockheed Martin build the Orion spacecraft.
The un-crewed Artemis 1 mission is to bring the USA back to the moon for the first time since the final Apollo moon mission in 1972. Through the mission, NASA aims to test the Artemis integrated rocket-spacecraft system.
NASA halted the countdown just 40min prior to launch "after the team was unable to get past the engine bleed, that didn't show the right temperature", NASA says. "Engineers are now working on a plan to get… data about this part of the engine."
Though NASA has not confirmed the time of its next Artemis 1 launch attempt, it says the "next availability" to launch is 2 September at 12:48 local time.
Through the Artemis programme, NASA intends to return humans to the moon in 2024, and to establish a long-term human-presence there. Lessons from Artemis, NASA says, will inform deeper-space exploration, eventually including crewed missions to Mars.