The secretive "spaceplane" operated by the US Space Force (USSF) will return to orbit for its seventh long-endurance mission, this time aboard the world's largest commercial rocket.
The USSF on 8 November announced the Boeing X-37B Orbital Test Vehicle (OTV) will launch on 7 December from Cape Canaveral, Florida for the ultra-long endurance spacecraft's seventh mission.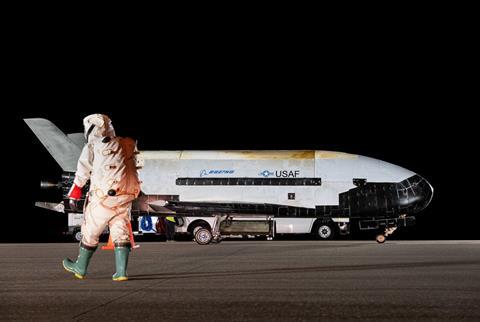 The announcement comes almost exactly one year after the X-37B landed from its sixth flight mission in November 2022. That flight, which launched in May 2020, lasted 908 days and carried a solar energy experiment for the US Navy and a satellite for the US Air Force Academy.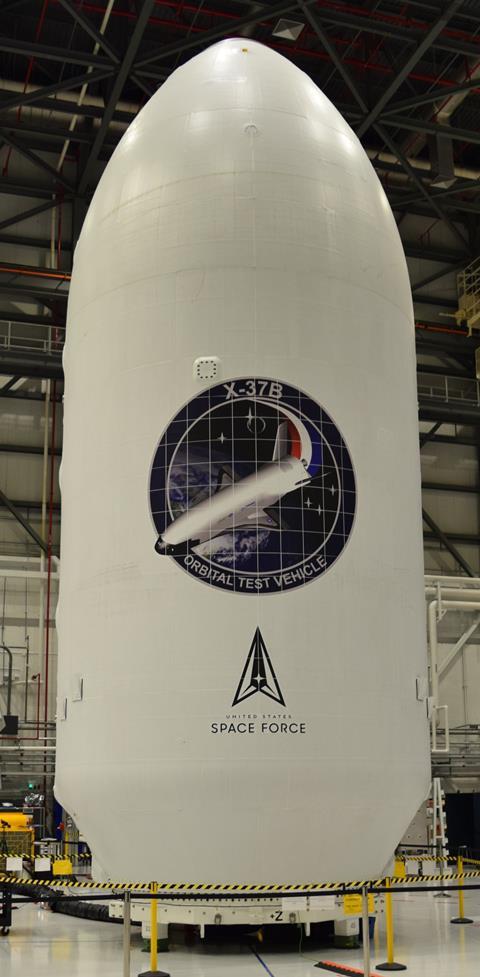 The goal of the latest orbital flight, dubbed X-37B Mission 7 or OTV-7, is to experiment with new space technologies aimed at furthering the "safe, stable, and secure operations in space for all users", the USSF says. The service did not reveal the planned length of the flight.
The OTV-7 tests will include operating the reusable space vehicle in new orbital regimes, experimenting with future space domain sensors and investigating the radiation effects on plant seeds, which could be used to support future crewed space flight.
"The seed experiment will inform space crop production for future interplanetary missions and the establishment of permanently inhabited bases in space," the USSF says.
The Pentagon's chief of space operations, General B Chance Saltzman, calls the battery of experiments carried by the OTV "ground-breaking".
Notably, X-37B Mission 7 will see the reusable space vehicle encapsulated and carried into orbit by SpaceX's Falcon Heavy rocket for the first time.
The Falcon Heavy is the most-powerful commercial rocket in operation anywhere in the world. Powered by 27 SpaceX Merlin engines, the Falcon Heavy generates more than 5,000,000lb (22,240kN) of thrust – about the same as generated by 18 Boeing 747 jets operating at full thrust.
The X-37B was previously launched into space aboard a United Launch Alliance (ULA) Atlas V heavy-lift rocket. ULA is a joint venture between Boeing and Lockheed Martin.
OTV-7 also marks the first flight in which the X-37B will carry USSF livery, rather than that of the US Air Force. The programme was previously managed by the USAF, prior to the creation of the space force.
Over six missions, the X-37B has flown 2.1 billion kilometres and logged 3,774 days in space.