SpaceX's Starship 9 prototype rocket crashed during a test flight on 2 Febuary.
The "SN9" rocket launched at 14:25 local time from the SpaceX facility in southern Texas and conducted what looked to be a flawless flight for more than 6min. The prototype was to land under its own power.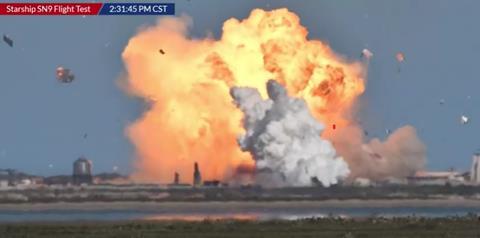 But control was lost as it descended. The prototype crashed and exploded near the landing pad.
The incident happened during a high-altitude, suborbital flight test of Starship 9, which is powered by three staged-combustion Raptor engines. The test was to see the vehicle roar to an altitude of about 33,000ft, "before reorienting itself for re-entry and a controlled aerodynamic descent", according to SpaceX.
The prototype is designed to descend under "active aerodynamic control" provided by two forward and two aft flaps that are actuated by the craft's flight computer. As SN9 nears the ground, its three Raptor engines are intended to "reignite as the vehicle attempts a landing-flip manoeuvre immediately before touching down on the landing pad adjacent to the launch mount", SpaceX says.
Live video of the test flight showed that the engines appeared to have failed to ignite as planned. A SpaceX employee narrating a live feed said after the incident, "We gotta work on that landing."
SN9 is the second SpaceX rocket to be destroyed in as many months. The company's SN8 prototype launched on 9 December, and also crashed in the late stage of the flight. It, too, exploded when it was unable to slow down enough for a normal landing.
SpaceX, owned by entrepreneur Elon Musk, is developing Starship with the goal of launching cargo passengers on missions to the moon and Mars.
Additional reporting by Jon Hemmerdinger.