NASA's Artemis I space mission successfully launched from Kennedy Space Center on Florida's Atlantic coast in the early hours of 16 November.
Artemis I is the first mission of NASA's initiative to return astronauts to the moon. The 16 November launch is uncrewed but will be used to test critical systems for an eventual crewed launch, part of a programme expected to cost NASA $93 billion by 2025.
The last time humans landed on the lunar surface was in 1972, during NASA's Apollo 17 mission. In Greek mythology, goddess Artemis is the twin sister of Apollo.
The planned 26-day mission calls for Artemis 1 to travel within 52nm (110km) of the moon and settle into a lunar orbit, before returning to Earth for a water landing off the coast of San Diego, California.
NASA Artemis mission manager Mike Sarafin sees four primary objectives for the launch: "Demonstrate the vehicle in lunar and re-entry conditions, demonstrate the vehicle in the space flight environment… retrieve the spacecraft, and bonus objectives associated with science outreach and technology demonstration."
While Artemis I has approximately 1.1 million nautical miles to travel before completing its mission, the success of the launch is a source of optimism for major US aerospace manufacturers.
Airframer Boeing is the primary contractor for the core stage of NASA's massive Space Launch System (SLS) – the towering rocket that powered Artemis I to the moon and will be used for future programmes into deep space.
The SLS, which stands taller than the Statue of Liberty, consists of a core rocket and two boosters that generate a combined 8.8 million pounds (39,100kN) of thrust – 13% more than used to lift the Rockwell International Space Shuttle into orbit, and 15% more than produced by Boeing's Saturn V rocket, which powered the Apollo missions to the moon.
According to NASA, SLS has capacity to carry more than 25,000kg (54,000lb) of cargo to the moon, compared to the 20,000kg capacity of the Space Shuttle, which could only reach low-Earth orbit.
"This country now has a super-heavy lift launch capability for the first time in 50 years," says Jim Chilton, senior vice-president of Boeing's Space and Launch division. "This test flight was a demonstration of engineering innovation, and we are ready to support NASA and their international partners in returning humans to deep space exploration."
When we go, we go together.

The #Artemis team wants to thank everyone who helped us along the way toward the first launch of the @NASA_SLS rocket and @NASA_Orion. pic.twitter.com/9dBSBzQ6wI

— NASA Artemis (@NASAArtemis) November 16, 2022
With the launch, Boeing and NASA demonstrated several key SLS functions, including fuelling both tanks, actuating the hydraulic system, igniting the engines, running thrust-vector control programmes in flight, depleting fuel tanks, shutting down the engines and separation of the SLS from an upper stage.
"It was an absolutely beautiful launch – visually and technically," says John Shannon, Boeing's SLS programme manager. "It performed the mission as we designed it to do, and we thank our team and partners for all their hard work in making this first launch a success."
The SLS core houses four Aerojet Rocketdyne RS-25 engines, which are updates of the same engines that powered the Space Shuttle. RS-25s burn hydrogen and oxygen (both in liquid form) and generate 418,000lb of thrust each at sea level, NASA says.

Northrop Grumman provides the two solid booster rockets that give thrust needed to escape Earth's gravity.
"The rocket was launched by a powerful 7.2 million pounds of thrust from our solid rocket boosters, which are the largest human-rated solid-rocket boosters ever built," says Northrop vice-president of propulsion systems Wendy Williams, referring to rockets meant to carry humans into space.
NASA appears pleased with the launch, which had been delayed after the agency scrubbed an initial attempt on 29 August.
"We had the rocket do its job," Sarafin says of Artemis I. SLS successfully delivered a payload into trans-lunar injection – the flight path from Earth to lunar orbit.

That payload is the Orion space capsule, designed by fighter jet manufacturer Lockheed Martin. The company says the Artemis I mission will see Orion travel as far as 34,800nm beyond the far side of the moon while collecting data for mission controllers to assess the performance of the spacecraft and payloads.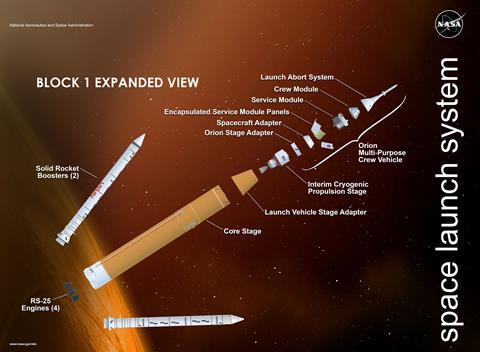 The programme also has non-US support, including from Airbus, which under a contract with the European Space Agency supplies Artemis' service module, which provides power and propulsion to Orion while in space. Workers in 10 European countries contributed to the service module.
NASA intends for Orion to ultimately deliver astronauts to the lunar surface in subsequent Artemis missions. However, Artemis I carried test mannequins sitting in for humans.
"Most people today have not lived in a time when a human-rated deep-space spacecraft has gone to the moon or beyond," says Lisa Callahan, general manager of commercial civil space at Lockheed Martin. "With today's launch, that statistic has changed and we're now all members of the Artemis generation."

Orion has already separated from the SLS and begun a multi-day trip to the moon, according to NASA. Lockheed says the spacecraft will use a "precisely timed engine, firing in conjunction with the moon's gravity", to accelerate back toward Earth – travelling at 21,700kt (40,200km/h) as it re-enters the atmosphere.
US AEROSPACE BOOST
How various systems perform through the 26-day mission could have a significant impact to the manufacturers who contributed components. NASA says more than 3,800 suppliers support Artemis's prime contractors. "With NASA investments, additional US companies, including small businesses, are advancing technologies and systems needed for a sustained presence on the moon by 2028."
Northrop has a $3 billion contract to provide support for SLS through 2031, and company executives see space programmes as Northrop's primary avenue for growth in the coming years. "We continue to expect space to remain our fastest-growing business, with sales growing by another $1 billion over 2022," said chief financial officer David during a 27 October quarterly earnings call.
In addition to a $4.6 billion deal for six Orion spacecraft, Lockheed has several other business interests on Artemis I. A Lockheed-Amazon-Cisco partnership known as Callisto aims to demonstrate how commercial technology can be used to control crewed spaceflight.
Lockheed also funded a compact satellite called the LunIR CubeSat, which is riding to the moon on Artemis I. It will collect lunar images with an eye toward supporting future space landing missions with low-cost scouting satellites.
Boeing space programmes have been among those generating losses for the aerospace giant in recent years. Concerns about the lack of plan for a new commercial jet design, coupled with money-losing defence programmes, have raised concerns from financial analysts and industry observers.
Success in Artemis will likely lead to further NASA contracts, including additional SLS rockets for eventual missions to Mars. During the Apollo era, Boeing built nine Saturn V rockets for NASA.
"We are just barely starting to scratch the surface of the Artemis programme," NASA's Sarafin says. The system is, for the most part, "performing exactly as we intended."

However, NASA has already observed what Sarafin calls "funnies" in some Artemis systems; including drop outs of the SLS flight instrumentation and micro-switches that control Orion's solar array.
The goal of Artemis I is to identify those "funnies" and correct the issues ahead of Artemis II – which is set to launch in 2024 with four astronauts aboard.