British Airways' decision to retire its fleet of Boeing 747s will accelerate the airline's sustainability efforts, according to recently appointed chief executive Sean Doyle.
"That's 32 older aircraft leaving British Airways, being replaced by modern 787 and A350 variants, and that's an advancement of our [sustainability] commitment over the Covid crisis that we're excited about," Doyle stated during the UK Royal Aeronautical Society's Climate Change Conference today.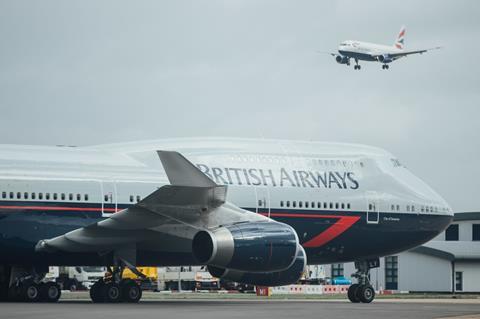 Those Airbus and Boeing widebody types are "a huge enabler of more efficient operations", Doyle says, explaining that BA expects to achieve an improvement "in terms of CO2 per kilometre travelled" as a result of the jumbos being retired early.
The airline is currently assessing "exactly what that [improvement] would look like in the future", he states.
Beyond fleet considerations, Doyle believes that BA parent company IAG's commitment to achieving "carbon net zero by 2050" will involve "many dimensions".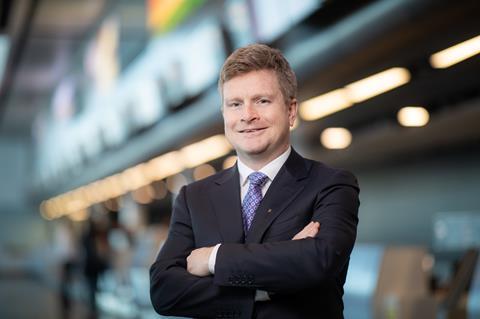 Noting that "there's no silver bullet" in terms of improving aviation's environmental footprint, he cites measures "like sustainable aviation fuel, like offsets, like emissions trading, like airspace management", which are "fundamental to getting the industry to where it needs to get to".
Doyle also acknowledges that "there are more exciting longer-term technologies like hybrid, battery and hydrogen", but says that BA sees "those coming from about 2040 onwards", rather than offering near-term solutions.
He adds that those technologies "will affect commuter, regional and shorter-sector sector journeys below 120 minutes more immediately", meaning they will initially have limited value for an airline with a significant focus on medium- and long-haul routes.
Asked if the coronavirus crisis might reduce some of the pressure on the airline industry to address its environmental impact, Doyle says sustainability will remain a "fundamental issue to tackle in terms of our right to operate" as the recovery begins.
"People like flying, but they don't like the carbon footprint from flying," he states.
Alex Cruz was at the helm of BA when the decision to retire its 747 fleet was made earlier this year, with Doyle replacing the former Vueling chief as chief of the UK flag carrier in October.