Administrators for Alitalia will tomorrow launch a tender for the Italian carrier's brand, having set the price at €290 million ($341 million) to participate.
Alitalia has been in administration since May 2017, and Italy is in the process of winding down the carrier, in its place launching a new national operator, Italia Trasporto Aereo (ITA), The latter will launch flights from 15 October, while Alitalia has stopped selling tickets for travel beyond that date.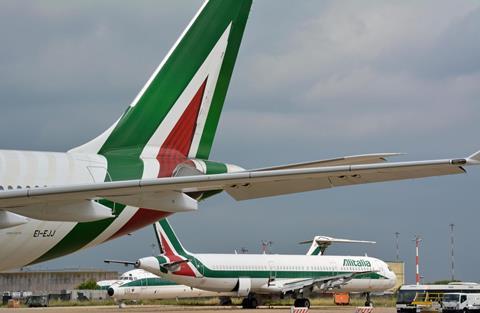 In clearing ITA to launch without being liable for €900 million in illegal state aid that it has ruled Alitalia must repay, European competition regulators made it a condition that the Alitalia brand be sold in an "open, transparent, non-discriminatory and unconditional tender to the highest bidder".
Details of the tender were disclosed by Alitalia's administrators today. It will formally open the tender for the Alitalia brand, which it describes as "one of the most-significant assets of the entire operation", on 18 September.
It has set a criteria for bidders to hold an air transport operating licence or air operator's certificate to take part in the tender. It says only binding offers for €290 million or more submitted by 4 October will be considered for the second stage of the process. It aims to make the brand available to the successful bidder by the end of the year.
ITA has previously indicated its intent to take part in the tender for the brand.