Business rescue practitioners at South African Airways describe as "reasonable" the prospects of rescuing the struggling carrier, though stress this is dependent on the necessary funding.
In an update issued to "affected parties" today, the joint business rescue practitioners appointed to oversee the carrier after it entered formal restructuring late last year, say they are now holding discussions with the airline's shareholder - South Africa's public enterprises ministry - to possibly restructure the airline.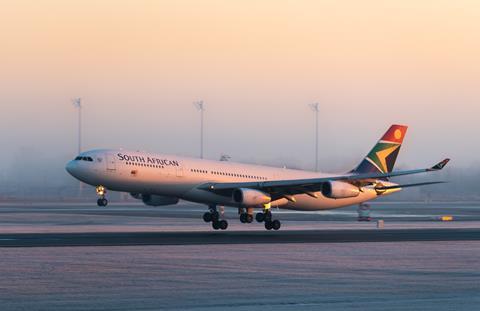 "An announcement in this regard will be made in due course as well as an agreed timeline for the consultation on the business rescue plan as well as its publication," they say.
"It is the considered view of the business rescue practitioners that there is still a reasonable prospect of rescuing SAA, subject to the receipt of unequivocal commitment thereto and the requisite funding. This will be set out in the business rescue plan to be published in due course."
In a wide-ranging update, the business rescue practitioners also say the airline has been granted leave to appeal a labour court ruling which backed the NUMSA and SACCA unions bid to prevent planned staff cuts.
The airline told staff it does not have sufficient funds "to continue honouring the obligations of SAA to its employees" beyond 30 April and has placed all staff on unpaid absence with effect from 1 May. It says staff continuing to work to operate the airline's limited repatriation and cargo flights are being remunerated.
The practitioners note a forum comprising the public enterprises ministry, unions and non-unionised bodies at the airline proposed pay cuts for May. "However, SAA does not have sufficient funds available to pay salaries to all of its employees and, in fact, does not have sufficient funds to pay certain of its post-business rescue costs," the administrators say.
The update also addresses the roughly R10 billion ($572 million) utilised in running the airline in the five months ending April 2020. This figure was highlighted during evidence given to a parliamentary committee on 15 May.
"Contextually, it is worth noting from the 2017 financial statements and the draft financial statements for 2018 and 2019 that the operating costs for SAA were at least R30 billion per annum amounting to an spend of R2.5 billion per month," it says, noting it has cut operating costs by around R500 milion a month.
Earlier today, the administrators called into question an SAA statement that it hoped to resume domestic flights in the middle of June, saying the cessation of flights "remains as is until SAA has a better sense of what the Level 3 lockdown means in terms of domestic air travel".