Greek carrier Aegean Airlines expects to post record full-year profits for 2023 after disclosing pre-tax earnings for the second quarter of €67.3 million ($72.2 million).
That figure is a €50 million jump on the €17.7 million pre-tax profit Aegean made in the second quarter of last year and was achieved on revenues up 37%, to €449.1 million.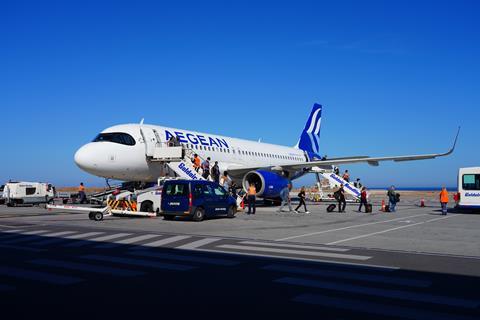 Increased revenues during the quarter were driven by a 28% rise in passenger traffic, outpacing the 22% additional capacity added as load factors climbed three points to 82.6%. Aegean's passenger levels increased to 4.1 million from 3.2 million in the second quarter of last year.
Net profit for the quarter of €51.5 million was also markedly up on the €10.8 million recorded for the same period last year.
The strong second quarter contributed to a first-half pre-tax profit of €48.7 million against a loss of €30.6 million for the first six months of 2022.
Aegean Airlines chief executive Dimitris Gerogiannis says: "Our performance in H1 2023 confirmed the consistent implementation of our targets in an environment of strong demand and intense competition.
"We are presenting exceptionally strong results stemming from network expansion and increased capacity following new aircraft deliveries, while at the same time, cost discipline and continuous upgrade of our services and product further enhance our competitiveness."
The carrier plans to operate 10% and 15% more capacity in the third and four quarters, respectively, and is confident on improving its profitability for the full-year.
"Based on the strong performance in H1 2023 and Q3 available data, revenue per flight is expected to be at the same high levels of the already strong Q3 2022, while for the full year a significant improvement in profitability is expected versus the already strong FY 2022 results, thus reaching new historical highs," the airline says.
Aegean posted a full-year pre-tax profit of €141 million and a net profit of €107 million in 2022.