Grupo Aeromexico, the parent company of Mexican flag carrier Aeromexico, has filed for Chapter 11 bankruptcy protection in the US after the coronavirus pandemic decimated its business.
It is the third Latin American carrier after Colombia's Avianca and Chile's LATAM Airlines to declare bankruptcy as the fallout of the global crisis creates liquidity problems for the region's airlines.
The move comes just 11 days after Aeromexico had said publicly that it had no plans to file for bankruptcy, but that it was "evaluating alternatives to move towards a better financial position".
Reversing its earlier course, the company says it hopes to utilise the process to acquire new financing, increase its liquidity reserves and create "a sustainable platform to succeed in an uncertain global economy".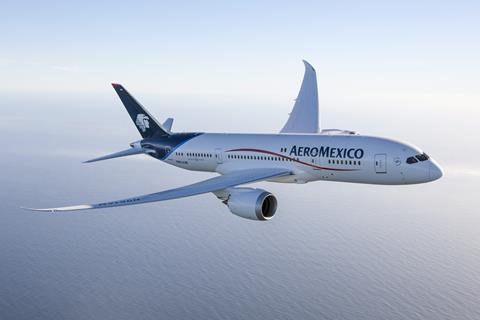 "Our industry faces unprecedented challenges due to significant declines in demand for air transportation," says Aeromexico chief executive Andrés Conesa on 30 June. "We are committed to taking the necessary measures so that we can operate effectively in this new landscape and be well prepared for a successful future when the Covid-19 pandemic is behind us."
The company will continue operations as normal, and all tickets will remain valid, the airline says.
Latin American carriers are struggling as the region's governments have been much slower to respond with financial support for the air transport industry than in other parts of the world, such as North America and Europe. Billion-dollar aid packages in those regions have helped airlines stay afloat, at least temporarily, and reorganise their operations after passenger demand dropped off sharply when the coronavirus exploded into a global pandemic earlier this year.
LATAM and Avianca both filed for bankruptcy protection in May in order to shield their businesses from creditors. Like Aeromexico, the airlines said they wanted to make sure they are able to restart operations smoothly when passenger demand returns and when travel restrictions are lifted.
Air traffic fell by about 96% in Latin America and the Caribbean as the coronavirus pandemic reached its peak in April, and has yet to make any significant steps toward recovery. While most countries begin to lift restrictions in the coming weeks, Colombia and Argentina expect to have lockdowns in place through the end of August.