Grupo Aeromexico, the parent company of Mexico's legacy carrier, has filed a restructuring plan with a US court as it works through bankruptcy proceedings.
The Mexico City-based carrier said on 2 October that the filing of the plan, to the bankruptcy court for the Southern District of New York, is "a key milestone on the company's path to emergence from its Chapter 11 process".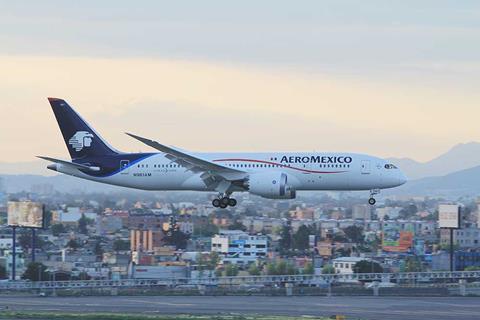 Aeromexico and its Latin American peers Avianca and LATAM Airlines declared bankruptcy last year after the rapid spread of the coronavirus heavily affected global air travel demand. Airlines shrunk networks, retired and stored aircraft, and laid off staff in an effort to preserve cash.
Now, with the rebound from the global health crisis in full swing, the three airlines are hoping to wrap up their reorganizations in the coming months.
"Aeromexico will continue pursuing, in an orderly manner, its voluntary financial restructuring through Chapter 11, while continuing to operate and offer services to its customers and contracting from its suppliers the goods and services required for operations," the company says.
"The company will continue to strengthen its financial position and liquidity, protect and preserve its operations and assets, and implement necessary adjustments to mitigate the effects of Covid-19," it adds
The next step in the process for the SkyTeam carrier is a hearing, which is scheduled for for 21 October.