Mexican flag carrier Aeromexico says it has no plans to file for bankruptcy, but that it is "evaluating alternatives to move towards a better financial position" after the global coronavirus pandemic decimated its liquidity.
The public statement on 19 June comes in response to media reports earlier in the day that said the airline is mulling filing for Chapter 11 bankruptcy protection in order to restructure its debt after much of commercial passenger aviation was grounded in the past weeks.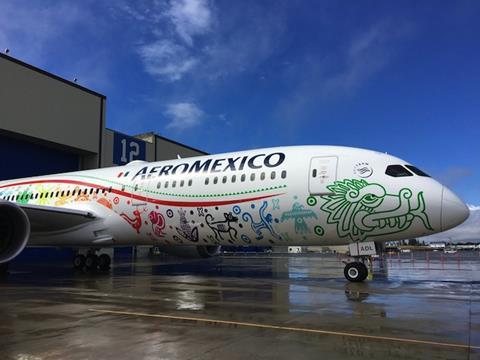 "The Company hereby informs that it has not initiated, nor has it made the decision to initiate, a restructuring procedure under Chapter 11 of the United States Bankruptcy Code," the company says.
"We are currently identifying additional sources of financing to strengthen operating cash flows," it says. "We are also analyzing different alternatives to successfully achieve, in the short and medium term, an orderly restructuring of financial commitments, without affecting or disrupting operations."
Latin American carriers are struggling as the region's governments have been much slower to respond with support for the air transport industry than in other parts of the world, such as North America and Europe. Billion-dollar aid packages in those regions have helped airlines stay afloat, at least temporarily, and reorganise their operations after passenger demand dropped off sharply when the coronavirus exploded into a global pandemic earlier this year.
Chile's LATAM and Colombia's Avianca both filed for bankruptcy protection in May in order to shield their businesses from creditors. The airlines say they want to make sure they are able to restart operations smoothly when passenger demand returns and when travel restrictions are lifted.
Commercial aviation trade organization IATA has repeatedly criticized Latin American governments' sluggish response to their aviation industries, and has strongly urged them to intervene on behalf of the sector's 7.2 million jobs across the region. In May, the body, which represents 290 airlines worldwide, said the goverments had provided less than 1% of the airlines' 2019 operating revenue in financial aid, making it the least-supportive region in the world.
But giving governmet assistance to private companies in countries whose populations are already suffering from economic hardship is a difficult political proposition for many Latin American nations, even though air travel has been able to bridge vast distances across the continent where ground-based transportation networks, infrastructures and systems are sometimes unreliable.
Air traffic fell by about 96% in Latin America and the Caribbean as the coronavirus pandemic reached its peak in April, and has yet to make any significant steps toward recovery. While most countries begin to lift restrictions in the coming weeks, Colombia and Argentina expect to have lockdowns in place through the end of August.