Grupo Aeromexico's creditors have approved its restructuring plan, moving the Mexican carrier one step closer to exiting Chapter 11 bankruptcy proceedings in a US court.
The parent company of the Mexico City-headquartered airline says on 11 January that the overwhelmingly positive vote on the plan has been submitted to the court, and the next hearing to consider the plan's confirmation is scheduled for 27 January.
Aeromexico is the last of three Latin American carriers - Chile's LATAM Airlines Group and Colombia's Avianca being the others - to climb out of the bankruptcy protection process.
"The conclusion of voting and the strong support from the company's creditors represents a key milestone in Aeromexico's restructuring process and well-positions the company to obtain court approval of the plan," the carrier says. "Aeromexico will continue working with all of its key stakeholders to obtain court approval of the plan and emerge from Chapter 11 as expeditiously as possible."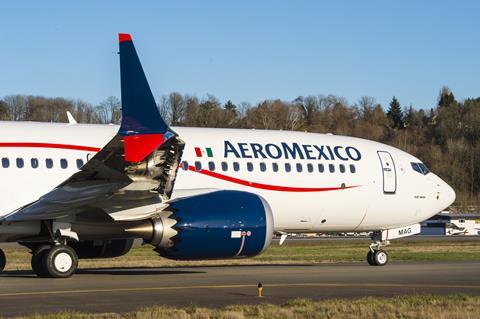 "Votes on account of claims totaling approximately $2.68 billion were submitted, of which approximately 86% (or the equivalent of approximately $2.3 billion) in votes were submitted in favour the plan," the company adds.
The airline says it will be holding a shareholder meeting on 14 January, "to discuss and adopt the corporate resolutions required to effectuate the plan".
Last month, some of the carrier's creditors objected to the company's reorganisation proposal, claiming it was marred by conflicts of interest involving parties including Delta Air Lines. Central to the objections was an arrangement between Delta Air Lines and Apollo Management Holdings, the finance company providing Aeromexico with $1 billion in financing as it works through restructuring.
Delta currently owns about half of Aeromexico, and Delta holds two seats on Aeromexico's board, including one occupied by Delta chief executive Ed Bastian.
Aeromexico, along LATAM and Avianca, voluntarily entered the Chapter 11 bankruptcy protection process in mid-2020 after the coronavirus caused a precipitous drop in customer demand as countries closed borders and imposed lockdowns designed to mitigate the global spread of Covid-19.
Avianca was the first of the three airlines to exit the proceedings, completing the process in late November. LATAM has submitted its restructuring plan to a US court and is awaiting its approval.