African airlines are proving particularly vulnerable to the devastating impact of the coronavirus pandemic, according to the latest analysis from IATA.
The industry's body's forecast for airline traffic, capacity and finances – released on 24 November – shows Africa lagging already punishing global figures.
"Airlines in Africa have burnt all their cash reserves," states IATA's regional vice-president for Africa and the Middle East, Muhammad Ali Albakri, during a briefing today. "We need to continue to provide financial support and financial aid, and proper policy and regulations, and we also need to quickly open up borders and remove hurdles to allow revenue streams to come to airlines."
IATA demand, capacity and profit forecast (24 November 2020)
| Region | 2020 demand vs 2019 | 2020 capacity vs 2019 | 2020 profits | 2021 demand vs 2020 (vs 2019) | 2021 capacity vs 2020 (vs 2019) | 2021 profits |
| --- | --- | --- | --- | --- | --- | --- |
| World | -66.3% | -57.6% | -$118.5bn | +50.4% (-50%) | +35.5% (-43%) | -$37.8bn |
| Africa | -72.0% | -62.8% | -$2.0bn | +35.0% (-62%) | +21.5% (-55%) | -$1.7bn |
In explaining the region's worse outlook, Albakri says that African airlines have received "little government support" during the crisis, while the "relative lack of cold chain facilities" may delay the distribution of vaccines, meaning Africa is expected to experience a delayed recovery in financial performance.
Those factors add to the pre-pandemic challenges in the African market, which has proven a stubborn environment for airlines seeking to make inroads and money, amid fragmented connectivity and a complex regulatory system. The long-term decline of South African Airways and the failure-strewn landscape of relaunched flag carriers are two examples of this difficult market in action.
So, while passenger traffic is forecast to be down 66.3% globally in 2020, Africa's decline is predicted to be 72%. Crucially, Africa's recovery next year is also expected to be much slower, with the region forecast to see demand 62% down on 2019 figures, versus a global prediction of 50%.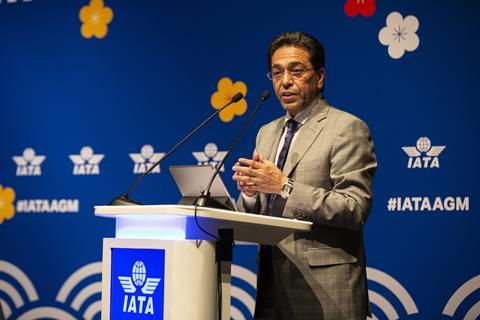 As they attempt to navigate this crisis, Africa's carriers face the extra challenge of relief funds from international finance bodies being blocked.
"Relief is blocked due to institutional bureaucracy, complex application and creditworthy processes, and cumbersome conditions," Albakri states.
This means that while $30 billion in relief has been pledged to travel and tourism companies in Africa, "little has reached airlines", according to Albakri.
Asked whether the magnitude of the current crisis will inevitably lead to a restructuring of Africa's airline industry, Albakri is reluctant to comment, instead reiterating the point made by IATA director general Alexandre de Juniac during the association's AGM on 24 November: "Our industry is in flames, and we must put every ounce of our energy into quenching the fire."