European regulators have approved half of the state aid pledged to Air Baltic by the Latvian state earlier this year.
The Latvian government – which is the carrier's majority shareholder – agreed on a €90 million ($102 million) equity injection into Air Baltic in August to "compensate the losses caused by the ongoing Covid-19 pandemic and to support overcoming the economic crisis", the airline says.
Some €45 million of that intended investment has been approved by the European Commission, Air Baltic says on 22 December, with the rest of the equity "still subject to the approval". It does not indicate when a decision can be expected on the remaining portion.
"The support of our majority shareholder to overcome the crisis reflects the recognition of the positive impact Air Baltic has on the economy," says Air Baltic chief executive Martin Gauss. "The European Commission has concluded that the Covid-19 pandemic qualifies as such an exceptional occurrence that exceptional interventions by member states to compensate for the damages linked to it are justified."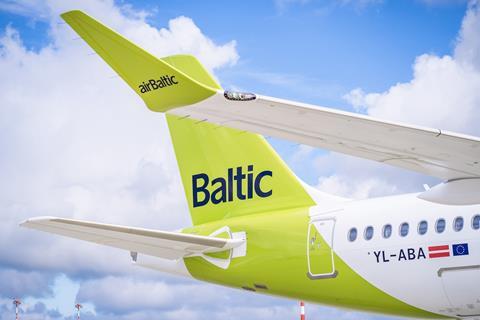 Air Baltic notes that it intends to repay the funds through proceeds from a future IPO.

Speaking to FlightGlobal in early November, Gauss said Air Baltic's equity level should not need a boost beyond the €90 million injection from the Latvian state, which is the second such injection following the €250 million it received in 2020.
The Riga-based airline describes itself as a "strategic facilitator of the Latvian economy", claiming it is "responsible for more than 2.5% of the Latvian GDP".