Air Canada says it will begin to offer refunds to customers whose flights were cancelled or who did not use their non-refundable tickets due to the coronavirus crisis that has been dragging on for more than a year.
The Montreal-based carrier says on 13 April that it has also revised its policies for future travel to be more accommodating to passengers whose plans change at short notice.
"Air Canada will be offering refunds to all eligible customers whether they cancelled their ticket or if their flight was cancelled by the airline. Customers can now submit refund requests online or through their travel agent and we are committed to processing refunds as fast as possible," says the airline's chief commercial officer Lucie Guillemette.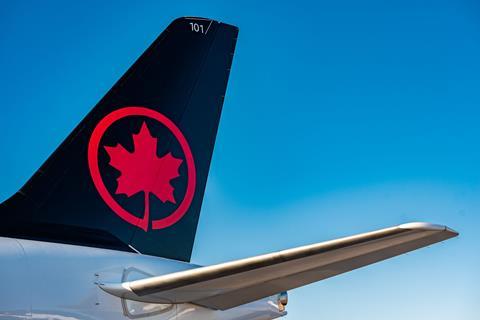 "In cases where a customer's flight is cancelled or rescheduled by more than three hours, we will now offer all customers the choice of receiving a refund, an Air Canada travel voucher or the equivalent value in Aeroplan points with a 65% bonus," she adds.
The change of heart comes after Air Canada announced on 12 April that it had accepted a bailout package from the Canadian government worth C$5.9 billion ($4.7 billion).
One condition of the deal is that the legacy carrier refund passengers who did not use their non-refundable tickets after the government-imposed coronavirus mitigation strategies that severely curtailed travel in Canada.
Customers who purchased the tickets for travel on or after 1 February 2020 until 13 April 2021 but did not fly – because either they chose not to or the airline cancelled the flight - are eligible. The offer lasts through 12 June 2021.
The airline adds that it has already paid out $1.2 billion to customers with more flexible, refundable fares, beginning in March 2020.
Air Canada also says that travel agents who booked these flights will not have to pay back the sales commissions they received on the fares that are slated to be refunded.
On 12 April the Canadian government announced that it had struck a deal with the ailing carrier, providing it with loans, but also that it would take an equity stake in the airline.
The deal is a long time in coming. Canadian airlines have been suffering under the country's strict travel restrictions which has choked off revenue for more than a year. Mandatory federal testing and quarantine requirements in addition to specific provincial rules have already cost the industry thousands of jobs and continue to hinder its recovery. These restrictions make travel both within Canada and internationally difficult, complicated and costly.
The country's major airlines have been clamouring for federal assistance for months, saying they have lost international market share while carriers in the US and some European nations, have been able to benefit from financial relief provided by their respective governments.
In addition to the Air Canada deal, government officials said on 12 April that it is having "good … and constructive" discussions with other airlines in Canada about further aid, including Calgary-based WestJet.