Air Canada ended 2020 with a fourth-quarter loss of C$1.2 billion ($950 million), closing a year the company's outgoing chief executive calls "undeniably grim".
For the full year, the airline posted C$4.6 billion loss, the company says on 12 February.
Revenue in the final quarter fell to C$827 million from C$4.4 billion in the same quarter in 2019. For the full year, Air Canada's revenue came in at C$5.8 billion, a decline of 70% from 2019, when it reported C$19.1 billion in revenue.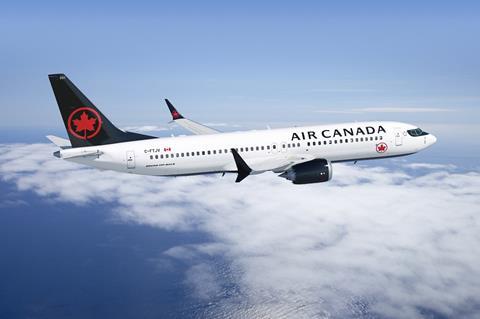 "With today's release of 2020 fourth quarter and full year results, we close the book on the bleakest year in the history of commercial aviation," says CEO Calin Rovinescu.
He adds that the effects of the crisis, which has been going on for a full year now, are "transitory" and that the airline's "retrenchment is temporary".
It was Rovinescu's final earnings report ahead of his retirement this week. He will be succeeded by chief financial officer and deputy CEO Michael Rousseau on 15 February.
Air Canada burned about C$17 million daily in the fourth quarter and expects daily cash burn will be similar in the first quarter of 2021.
Air Canada expects its first-quarter capacity will be down 83% year-on-year, reflecting continued operational struggles amid government travel restrictions that include mandatory 14-day quarantines for arriving passengers.
TIGHTER RESTRICTIONS
The coronavirus crisis kicked off in earnest in the middle of the first quarter 2020, upending airlines' schedules and business strategies. Shelter-in-place orders and dramatic travel restrictions forced airlines to cancel thousands of flights and mothball large portions of their fleets. Borders – including the land crossing between Canada and the USA - were sealed and nations imposed bans on travellers from specific countries. Some of these restrictions remain in place a year later. Others expired but were reimposed.
The government of Canada recently tightened its entry requirements, adding a negative coronavirus test result to the quarantine. It also announced in January that it would crack down on those trying to skirt the restrictions, and force all arriving passengers – including those who have valid negative test results – to pay for a three-day monitored hotel quarantine. Following a second negative test they can leave but must complete the remainder of the two-week quarantine under what the government calls "increased surveillance".
Executives say they expect this order will take effect in the coming days. The government's announcement spurred a surge in cancellations and a decline in new bookings, says Air Canada chief commercial officer Lucie Guillemette.
Earlier this week, Air Canada said it was temporarily cutting 17 more routes to the USA and international destinations, in addition to the suspension of flights to Mexico and the Caribbean, announced in January. These suspensions will last through 30 April and lead to further job losses. The airline has shed more than 20,000 positions since the beginning of the crisis.
The suspensions come at an inconvenient time for winter-weary Canadians, many of whom usually spend at least a part of the cold weather months in warmer climates. So-called "snowbirds" flock to beaches and resorts in Florida, Mexico and the Caribbean between February and April to escape Canada's frigid temperatures and short days. This year, that steady wave of dependable business for Canadian carriers has been severely curtailed.
Air Canada says it sees increased testing as the way out of the crisis.
"We really believe that the silver bullet here is a very, very effective testing protocol that replaces the blanket restrictions, that replaces the quarantines," Rovinescu says. "We have been making that case to the government."
He says that by 30 April, when the current flight suspensions end, the country could consider entering a transitional phase where it would replace the national and provincial restrictions with an increased testing regime, and shortening the quarantine requirement to five to seven days, from 14.
TRANSAT ACQUISITION
Air Canada executives did not comment on the Canadian government's approval of the carrier's acquisition of Montreal-based peer, vacation specialist Transat AT.
On 11 February, competition regulators approved the tie-up with conditions. Those include maintaining the brand and headquarters in Quebec, keeping at least 1,500 jobs and offering the airline's long-haul routes to other carriers.
Canada's second-largest airline, Calgary-based WestJet, blasted the decision on 11 February, calling it a "serious setback" to the economy that will make Canada "closed to competition".
"This decision shows blatant disregard for all Canadians who believe in healthy competition," says WestJet CEO Ed Sims. "It is hard to imagine a deal as anti-competitive in any industry where the number one player buys number three without meaningful remedies."
Air Canada and Transat are now awaiting the go-ahead from European regulators, expected to come any day.