Air Canada continues to haemorrhage cash as the airline's home country keeps its air carriers in the dark about a time-line for easing strict restrictions that are hindering them from returning to a pre-coronavirus normal.
Speaking on the Montreal-based airline's quarterly earnings results analyst call on 7 May, chief executive Michael Rousseau called on the government of Canada to develop and communicate a plan to reopen the vast country for visitors, and allow its own citizens more freedom of movement as well.
Canada has had some of the toughest restrictions in place designed to mitigate the spread of the coronavirus, making travel abroad difficult, complex and expensive. Even domestic travel has been choked off for months, as Canada once again experiences a spike in virus cases in some parts of the country.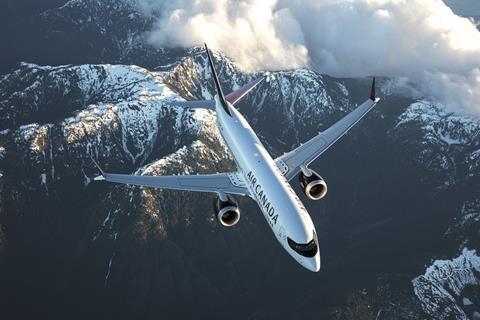 "The persistence of Covid-19 and its resurgence in Canada are weighing heavily on the Canadian airline industry, as reflected in Air Canada's first quarter results," Rousseau says. The results were Rousseau's first since he became chief executive officer in February, after Air Canada's previous long-time CEO, Calin Rovinescu, retired.
Air Canada says it lost C$1.3 billion ($1.07 billion) in the first quarter of 2021. Revenue at the end of the first three months of the year stands at C$729 million, 80% lower than the C$3.7 billion it posted in the first quarter of 2020.
The airline says it transported 88% fewer passengers in the quarter than during the same period last year.
But despite the industry's ongoing slump, Rousseau is confident the airline is well-positioned for when the crisis ends, as air transport is a "central pillar" in the country's infrastructure that will drive a wider economic rebound.
"Air Canada is poised to emerge strongly from the pandemic. It is now essential that governments communicate and implement a reopening plan for our country; recognizing that a healthy aviation sector is vital to Canada's economic recovery," Rousseau says.
The blanket travel restrictions that have been in place for months - including the closure of the US-Canada border, in effect since March 2020 - must be eliminated in favour of "science-based testing and limited quarantine measures where appropriate", he adds.
HOTEL QUARANTINE 'INEFFECTIVE'
In January, Canada imposed new rules that required all inbound air passengers to not only present a negative coronavirus test result prior to boarding their flights but upon arrival in the country also forces them to spend up to three days in a government quarantine facility – at their own cost - as they await further test results.
Rousseau says the hotel quarantine "has proven ineffective and should be eliminated". It is also the biggest impediment to a sustainable rebound in international and business travel.
Executives add that it is in discussion with the government in order to be able to plan ahead, however it's anyone's guess as to when the restrictions will ease.
"We don't have a direct sign from the Canadian government as to what triggers a reopening," Rousseau says. He says that the airline will need a certain lead time to inform customers, recall staff and bring aircraft out of long-term storage.
"The third wave [of virus infection] has made it more difficult to do anything, but there is tremendous work being done behind the scenes," he adds.
The airline's capacity in the first quarter was 82% lower than in the same quarter of 2020, and 84% lower than in the first three months of 2019. It says second quarter capacity will be double what it was in the second quarter of 2020, but that will still be 84% lower than during Q2 of pre-pandemic 2019.
Cash burn continues to be high, at C$14 million per day, on average, with executives estimating it to stabilise between C$13 million and C$15 million per day during the current quarter.
UPHEAVAL AND RELIEF
Air Canada has had to deal with upheaval on several fronts in recent months, precipitated by the global health crisis, but there was also some relief.
In January, the federal government requested Canadian airlines suspend routes to warm-weather destinations in the Caribbean and Mexico through the end of April, disrupting many Canadians' traditional annual trek south for a break from the long, cold winter, and what has usually been a strong season for travel companies and air carriers.
Chief commercial officer Lucie Guillemette says that since Canadians missed out on 2021, they are already planning their 2022 winter getaways.
"We are definitely seeing a strong base for bookings to sun destinations – the Caribbean, Hawaii, Florida," says Guillemette. "We are seeing customers assuming that by the time we reach Q4, travel restrictions will somewhat ease." She says corporate travel - the more lucrative segment for most airlines - is not likely to return in higher numbers until September.
In addition, in early April, the airline called off its planned acquisition of holiday specialist Air Transat after many months of the deal hanging in limbo. While the tie-up was green-lighted by Canadian competition authorities, the European Commission – another jurisdiction that had to sign off on the transaction - signalled it would not approve the deal.
Later that month, ailing Air Canada finally struck a $5.9 billion bailout deal with Canadian government, providing it with loans and taking an equity stake in the airline.
The deal had been a long time in coming as the industry was forced to shed thousands of jobs amid the government's virus mitigation measures since early 2020. The country's airlines had been clamouring for assistance for months, saying they had lost international market share while carriers in the US and some European nations have been able to benefit from financial relief provided by their respective governments.
One of the key points of the agreement was that Air Canada refund non-refundable fares that customers had purchased but which they did not use due to either cancelled flights or the travel restrictions - a move the airline had previously opposed. The government set aside C$1.4 billion for this purpose, but Air Canada says so far many customers have chosen to keep their travel vouchers rather than cashing them in.
"The take-up on refunds has been slower than anticipated," Amos Kazzaz, the company's chief financial officer, says.