Air Canada revenue and net profit rose slightly in 2019, but results were tempered by the ongoing grounding of the Boeing 737 Max aircraft and the start of the coronavirus crisis in Asia, the airline says.
Full-year 2019 revenue at Canada's flag carrier rose to C$19.1 billion ($14.4 billion) from C$18 billion in 2018. Adjusted net income rose to C$917 million from C$738 million a year earlier, the Montreal-based carrier reported on 18 February.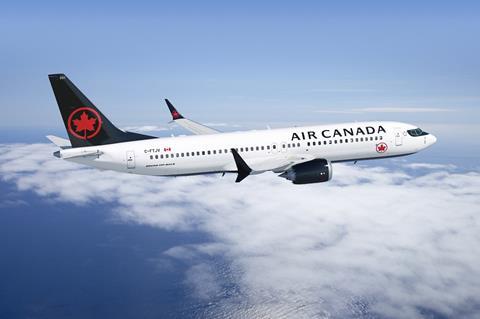 Facing the continued grounding of what is effectively 25% of its fleet and the suspension of flights to China and Hong Kong, the Montreal-based airline has had a rocky start to 2020 as well, airline executives say on the company's analyst call. Air Canada expects the effects of these two operational challenges as well as higher charges for maintenance and employee benefits to cost it more than C$200 million in the first quarter of 2020.
"We start 2020 with uncertainty from the on-going Boeing 737 MAX grounding and the constraints it imposes, as well as emerging economic and geopolitical risks and route suspensions resulting from the COVID-19 virus," says Calin Rovinescu, president and chief executive on an analyst call on 18 February.
Air Canada has 24 737 Max aircraft in storage, with 37 more on order and 18 more on option, according to Cirium fleets data. At the end of 2019, the company had planned to have 36 Max flying, which would have amounted to just under one-quarter of its entire fleet. By peak summer travel season 2020, the company had planned on operating 50 of the aircraft type. However, after Boeing halted production in January, the airline will not be able to take delivery of all of its aircraft as originally scheduled.
A more probable timeline will be: six of 12 undelivered Boeing 737 MAX aircraft originally scheduled for delivery in 2019 will be delivered in 2020 with the remaining six delivered in 2021, the airline says. Another 14 undelivered Boeing 737 MAX aircraft originally scheduled for delivery in 2020 will be delivered in 2021.
Air Canada is the only 737 Max customer in North America which does not operate the previous generation 737NG. As a result, more than 400 pilots who had been trained on the Max have been standing by as the aircraft's grounding goes into its 12th month, Rovinescu adds.
This could be an advantage, though, when the aircraft comes back into revenue service later in the year. Air Canada has been training its Max pilots in its own two Max simulators, and it has rental access to a third as needed. Executives say this is sufficient for the size of the airline's Max fleet.
"Our pilots have been going through simulator training for the last year so the training has continued," he says. "As the final fix is approved by the FAA and Transport Canada of course there will be additional incremental time for our pilots, but it will be a shortened environment because they've been in the simulator for the past year. We are relatively in good shape when it comes to that."
Air Canada also says that it expects the 737 Max to be operating again in the third quarter, but it will not be able to fully restore it into its schedule until after that quarter. Until then, the airline has backfilled its capacity with less-efficient leased Embraer 190s and Airbus 320s.
"We have got fairly good flexibility on this until end of year and then after that it becomes more challenging because maintenance costs will go up and planes need to go back to lessors," Rousseau says. According to Cirium, Air Canada is currently operating 14 Embraer E190 aircraft, and 37 Airbus 320s.
Rovinescu says the airline received an initial compensation payment for the grounding from Boeing in the fourth quarter, but expects further negotiation as the crisis drags on. The compensation will be in the form of reduced aircraft cost, chief financial officer Michael Rousseau says. "Any cash we receive will go against capex in whatever quarter we receive the cash. The cost of aircraft will be reduced in book cost."
In the fourth quarter of 2019, Air Canada also took delivery of its first A220, of a total 45 on order. It is the first Canadian airline to receive an A220 and the only Canadian airline with the A220s on order, according to Cirium fleets data. The Quebec-built aircraft went into revenue service on Air Canada's Calgary-Toronto route in January, and chief commercial officer Lucie Guillemette says the airline will have a total of three A220s by May which it will deploy on other routes such as Montreal-Seattle and Toronto-San Jose.
"It will create new profitable city pairs and we are extremely excited about this aircraft and the opportunities it presents for our network," she adds.
CORONAVIRUS DISRUPTION
Air Canada has suspended all direct flights to Beijing and Shanghai following a notice from Canada's government advising against non-essential travel to mainland China on fears about the deadly Wuhan coronavirus.
"Pacific capacity is significantly reduced and it will significantly impact revenues," Guillemette says. The airline says it has redeployed the capacity throughout its network including upgauging and increasing frequency on other routes.
China travel accounts for about six percent of the airline's annual available seat miles, with Hong Kong accounting for another three percent, Rousseau says. Air Canada operates flights to Hong Kong and mainland China from Toronto, Montreal and Vancouver.
Executives say they expect mainland China and Hong Kong services to be fully recovered by the third quarter of 2020.