Air Canada says that after an Omicron-fuelled dip in the first weeks of the year, the first quarter of 2022 ended on a positive note, and it expects that momentum to continue.
The Montreal-based company on 26 April posted a net loss of C$974 million ($761 million), compared to C$1.3 billion in the same quarter a year ago.
Revenue exploded to C$2.57 billion, more than triple that of the same quarter last year, Air Canada says.
"The substantial year-over-year improvement in Air Canada's first quarter results is clear evidence that a recovery is underway," says Michael Rousseau, Air Canada's chief executive officer.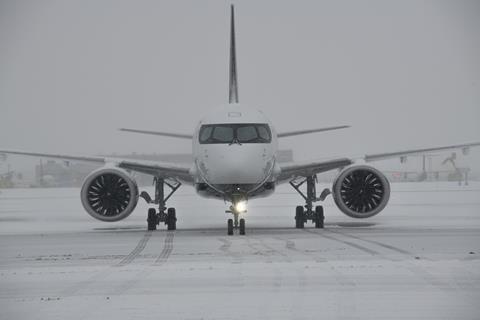 "The year began with weakness brought on by the Omicron variant and travel restrictions. However, we quickly rebounded in March with passenger volumes exceeding the strong December levels and passenger ticket sales in March 2022 over 90% of March 2019 levels, a leading indicator to much stronger 2022 second and third quarter results."
For the second quarter, Air Canada says it plans to increase its available seat mile (ASM) capacity by more than 400% from the same quarter in 2021. That translates into about 73% of second quarter 2019 ASM capacity.
For the full year, Canada's largest airline plans to increase its ASM capacity by about 150% of 2021 ASM levels, or about 75% of the level for the year prior to the global health crisis.
Since summer capacity will still be lower than in 2019, it would be unrealistic to try to shoot for 2019-level revenue, says chief commercial officer Lucie Guillemette.
"To reach 2019 [revenue] levels this summer would not be achievable, but perhaps by the time we look at early Q1, maybe early Q2 next year," she says.
The company says it is seeing business travellers returning in greater numbers, primarily in its North American markets. International corporate travel will take longer to recover, and the company sees Asian travel markets returning in force by 2023 or 2024.
"Right now we sit at approximately minus-50%" of domestic and transborder corporate travel, Guillemette says. For May and June the airline is "already seeing ourselves passing the threshold of minus-40% or so".
"When we look at indicators of small & medium-sized [company] business travel, customers flying short durations, even if we don't have contractual agreements with some of these SMEs, we are seeing that that traffic is coming back. By the time we reach September and October we could be in the minus-20-to-30% range in North America," she adds.
Air Canada does not see itself in a tight staffing situation, a problem that is besetting its airline competitors south of the border, the company's executives say. It's ramped up to about 27,000 active employees in the second quarter of 2022. That's about 9,000 more than at the end of the same quarter a year ago.
"We are not seeing any issue attracting, retaining and training the staff we will need to operate through the summer," adds chief executive Rousseau. Pilots, in especially high demand in the USA, are plentiful, he adds.
"We are a very attractive employer. We kept all our pilots on payroll during the pandemic, we kept them paid and trained, and that allowed us to recover quickly," he adds.
FLEET ADDITIONS
Air Canada has increased its order of long-range Airbus A321XLR aircraft to 30 from the 26 the carrier announced last month. These are scheduled for delivery from the first quarter of 2024 through 2027. The new aircraft will be powered by Pratt & Whitney PW1100G engines, Rousseau says.
Conceived as an evolution of the A321neo, the XLR will have a specially-designed central fuel tank giving the twin-jet a range of up to 4,700nm (8,704km). Airbus expects the variant to enter service in 2023. Air Canada has said plans to use the aircraft to serve the whole of North America and a select number of transatlantic routes.
The carrier took delivery of three Boeing 737 Max 8s during the first quarter, which brings its Max fleet to 34. Six more will be delivered by the end of the year.
One Airbus A220 also joined the fleet, bringing the fleet's total to 28 of that type, with five more coming between now and end of 2022.