Air Canada is reconsidering the operational strategy of its discount subsidiary Rouge, a move coming amid heightened low-cost competition within Canada.
Speaking on 30 March, Air Canada chief commercial officer Lucie Guillemette says Rouge is "in a little bit of a transition period".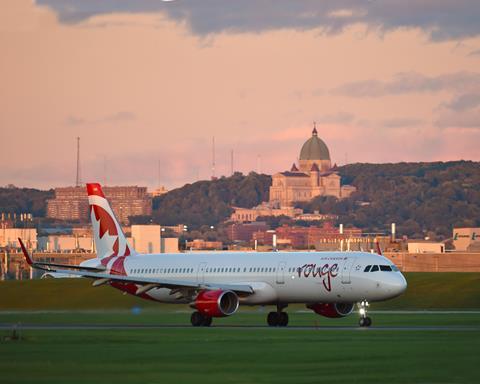 "We are now in the process of really re-looking at the mission of Rouge and how we best want to proceed in the years to come," she adds.
Guillemette, who spoke during Air Canada's investor day, says the company is evaluating Rouge's routes and fleet, and how Air Canada distributes tickets. She notes that many of Rouge's jets will be "approaching" the end of their viable service lives by the end of this decade.
Air Canada notes that it continues to view Rouge as a valuable means of heading off competitive threats from other Canadian discounters.
Guillemette is scarce on details but notes Rouge's operation changed significantly during the pandemic. The downturn led Air Canada to retire older jets, including 25 Boeing 767s that Rouge had operated. That left Rouge with an all-Airbus A320-family fleet that stood at 39 jets at the end of 2021.
Many of those aircraft are 25 to 30 years old, according to Cirium fleet data.
Air Canada also temporarily grounded Rouge's operation during the pandemic, suspending its flights from February to September 2021, Cirium shows.
Since its restart, Air Canada has limited Rouge's flight network to leisure routes from eastern Canada. The airline now operates only from Charlottetown, Montreal, Toronto and Quebec City, with flights to Las Vegas, Florida and warm-weather destinations in Mexico and the Caribbean, according to Cirium.
By contrast, in 2019 Rouge also flew to several western Canadian destinations and to Europe.
Air Canada launched subsidiary Rouge in 2013 as a means to compete better with Canadian discount airlines. It kept Rouge costs low by stuffing more seats onto the jets, and by staffing aircraft with cabin and cockpit crews who work under rules and rates separate from those that apply to employees of Air Canada's higher-cost mainline operation.
Since its launch, Rouge has faced only increasing low-cost competition. New entrants include Flair Airlines and WestJet's cut-rate operation Swoop. Two others – Lynx Air and Jetlines – aim to get airborne this year.
Further clouding the competitive situation, WestJet is working to acquire discounter Sunwing, with the aim of closing the deal late this year.
Additionally, amid the pandemic Air Canada and competitor Air Transat called off a planned merger amid regulatory hang-ups. The collapse of that combination left Air Transat a freestanding competitor.