Air Canada posted a stunning C$1.8 billion ($1.5 billion) loss during the second quarter, as the coronavirus shut down almost all air travel in the country, and government-imposed restrictions kept passengers away.
The Montreal-based carrier transported just 4% of passengers carried during the same period one year ago, in what its chief executive Calin Rovinescu calls "an impossible operating environment".
Total operating revenue fell 89% to C$527 million, the airline says on 31 July. Of that, C$269 million came from cargo, and $207 from passenger transport. It was the first time in the history of the company that cargo revenue exceeded passenger revenue during a quarter.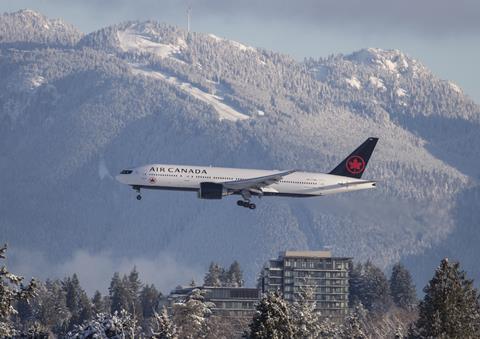 "As with many other major airlines worldwide, Air Canada's second-quarter results confirm the devastating and unprecedented effects of the Covid-19 pandemic and government-imposed travel and border restrictions and quarantine requirements," Rovinescu says on the company's quarterly earnings call. "Canada's federal and inter-provincial restrictions have been among the most severe in the world, effectively shutting down most commercial aviation in our country."
Rovinescu has repeatedly and harshly criticised the government of Canada for the extension of travel restrictions that, coupled with already fragile demand, have prevented it and Canadian peers from getting back to any semblance of normal business operations.
He says the country's rules, imposed in March, "consititute one of the most-severe aviation lockdown regimes in the world", with no relief in sight.
"We are migrating from a health crisis to an economic crisis if we don't start moving in a meaningful way," Rovinescu says, adding that Air Canada's effect on the overall Canadian economy is substantial. "I do not take issue that [the country] was shut down tightly in March, I take issue with the fact that it has not been opened up on a thoughtful scientific basis."
Canada has effectively sealed off its border to the United States, the longest peaceful border in the world, cutting off all non-essential transborder travel. The closure has been extended several times and now remains in place until 21 August, but Air Canada executives say they are assuming it will not reopen until the end of September at the earliest.
The country also requires 14-day quarantines for any inbound travellers from abroad, and some provincial governments have imposed separate quarantines affecting travel between provinces. While the measures may have been effective and necessary at the beginning of the crisis almost five months ago, they no longer are, Rovinescu says.
"Above all, today's reported declines in revenue of nearly 90% and in passengers of over 96%, should reinforce the tremendous urgency for governments in Canada to take reasonable steps to safely reopen our country and restore economic activity," he says. "Other jurisdictions globally are showing it is possible to safely and responsibly manage the complementary priorities of public health, economic recovery and job preservation and creation."
GOVERNMENT AID
Air Canada is participating in the Canada Emergency Wage Subsidy (CEWS) plan to help continue to pay workers, but the government has thus far not offered the aviation industry additional financial support. The airline is calling for an industry-specific financial aid plan, similar to the US CARES Act, to support the country's aviation industry.
"We are the only carrier amongst the top 20 in the world that has received no industry financial support package," Rovinescu says, citing European nations such as Germany, France and the Netherlands' extensive packages for their respective flag carriers Lufthansa, Air France and KLM.
"This goes on and on and on in other parts of the world, and other parts of the world have also had more a rational, science-based approach in opening markets," Rovinescu says. "It should be one or both, but it cannot be neither."
FLEXIBLE FLEET
Rovinescu says Air Canada will need to be flexible with its fleet going forward, after announcing retirements of 79 older aircraft, including Boeing 767s, Airbus A319s and Embraer 190s during the quarter. The company is on a mission to rejuvinate its fleet, and has orders for the currently-grounded 737 Max and Canadian-built A220. But the crisis has dampened the airline's appetite for the new aircraft.
"Without government industry support and as travel restrictions are extended, we will look at other opportunities to further reduce costs and capital – including further route suspensions and possible cancellations of Boeing and Airbus aircraft on order, including the Airbus A220 manufactured at Mirabel, Quebec," he says. "We have aircraft on order and we have optionality with the speed with which we will rebuild our fleet."
The airline began flying A220s in January, and received its seventh of the type during the second quarter. According to Cirium fleets data, it has 30 more on order with options for 37 additional aircraft.
Liquidity preservation is the number one issue for the company, similar to its North American peers, as it cuts costs and reduces headcount to stem daily cash burn, which was an average of C$19 million in the second quarter. The carrier expects that number to fall to C$15-17 million daily in the third quarter.
Air Canada says it reduced the number of employees during the quarter by about 20,000, representing more than half of its pre-coronaviurs workforce. These reductions came as "layoffs, terminations of employment, voluntary separations, early retirements and special leaves".