Air Canada achieved a first-quarter record revenue of C$4.9 billion ($3.6 billion), up 88% from the same period a year ago as travel demand boomed following the global pandemic.
The Montreal-based carrier said on 12 May that its passenger revenue alone came to C$4.1 billion, more than double the figure from the same three-month period in 2022.
More than half the increase came from international markets, Air Canada says. "This was largely the result of a better operating environment in all markets following the removal of all travel restrictions in Canada in late 2022, as well as a strong pricing environment."
Air Canada's revenue from transborder flying to the USA rose to 2.3 times the previous level, revenue from transatlantic flights "nearly doubled", and flights across the Pacific Ocean generated five times the prior year's revenue, as Asian countries ditched coronavirus-related travel rules.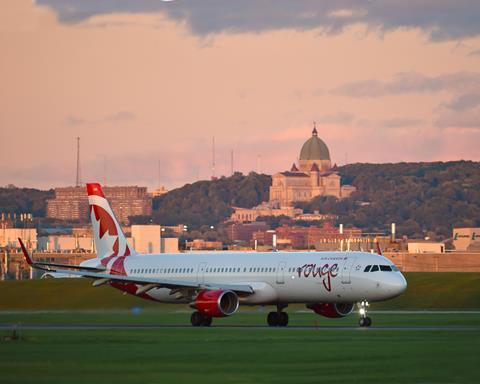 The company posted a $4 million profit for the quarter, but adjusted for special items the company says it lost C$188 million. During the same three months in 2022, those losses were C$974 million and C$747 million, respectively.
Air Canada's capacity during the three months ending on 31 March rose 53% year-on-year and its load factor jumped 18.5 percentage points to 84.8%.
"Air Canada's impressive first-quarter performance reflects the strength of our brand, the very strong demand environment across all markets and the effective execution of our strategic plan," chief executive Michael Rousseau says. "Our first-quarter financial results exceeded both internal and external expectations and we expect demand to persist, supported by strong advance bookings for the remainder of the year."
But while travel demand surged, Air Canada's operating expenses also rose 57% due to the increased capacity and more-expensive jet fuel.
The airline ended the quarter with 196 aircraft in its mainline fleet and 42 aircraft flying for lower-cost subsidiary Air Canada Rouge, for a total 238 aircraft. Air Canada expects to end the year with the same number, increasing to 246 aircraft across both units in 2024.
Air Canada Express, which is a separate brand operated by partner airline Jazz, had 114 aircraft at the end of the quarter.
Last week, Air Canada raised its earnings expectation for full-year 2023 in light of anticipated ongoing demand for air travel across Canada. The airline expects its 2023 cost per available seat mile (CASM) will be 0.5% to 2.5% less than its 2022 CASM, and predicts its earnings before interest, tax, depreciation and amortisation will be C$3.5-4 billion, up from a previous estimate of C$2.5-$3 billion.
Air Canada's 2023 capacity guidance remains "substantially unchanged" at an estimated 23% bump from 2022 – approximately 90% of its capacity in pre-pandemic 2019.